CARREVIORE PURCHASES HARROW BUSINESS.
21st June 1935
Page 34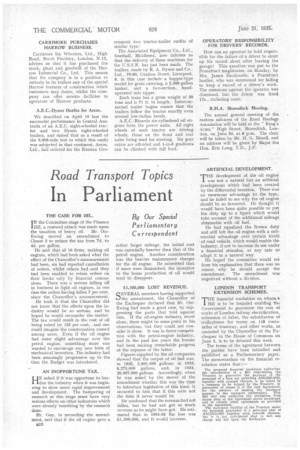 Page 34, 21st June 1935 —
CARREVIORE PURCHASES HARROW BUSINESS.
Close
Carrimore Six Wheelers, Ltd., High Road, North Finchley, London, N.12, advises us that it has purchased the stock, plant and goodwill of the Harrow Industrial Co., Ltd. This means that the company is in a position to embody in its trailers any of the special Harrow features of construction which customers may desire, whilst the company can offer service facilities to operators of Harrow products.
A.E.C.-Dyson Outfits for Arcos.
We described on April 19 last the successful performance in Central Australia of an A.E.C. eight-wheeled tractor and two Dyson eight-wheeled trailers, and stated that as a result of the 9,000-mile test to which this outfit was subjected in that continent, Amos, Ltd., had ordered for the Russian Gov
eminent two tractor-trailer outfits of similar type: The Associated Equipment Co., Ltd., Southall, Middlesex, now informs us that the delivery of these machines for the U.S.S.R. has just been made. The trailers, made by R. A. Dyson and Co., Ltd., 76-80, Grafton Street, Liverpool, 8, in this case include a hopper-type model for grain carrying, a 2,500-gallon tanker, and a two-section, handoperated side tipper.
Each train has a gross weight of 30 tons and is 71 ft. in length. Interconnected trailer bogies ensure that the trailers follow the tractor exactly even around low-radius bends.
A.E.C.-Ricardo six-cylindered oil engines form the power units. All eight wheels of each tractor are driving wheels, those on the front and rear axles being used for steering. Six gear ratios are afforded and 1-in-6 gradients can be climbed with full load.
OPERATORS' RESPONSIBILITY FOR DRIVERS' RECORDS.
How can an operator be held responsible for the failure of a driver to enter up his record sheet after leaving the garage? This question was put to the Pontefract magistrates, on Monday, by Mrs. James Harcicastle, a Pontefract haulier, who was summoned for failing to keep a record of a driver's work. The summons against the operator was dismissed, but the driver was fined. 17s., including costs.
R.HA. Shoreditch Meeting.
The annual general meeting of the eastern sub-area of the Road Haulage Association will be held at the " King's Arms," High Street, Shoreditch, London, on June 24, at 8 p.m. The chair, will be taken by Mr. H. G. Bissell, and an address will be given by Major the Hon. Eric Long, T.D., J.P.