A DEMAND FOR A FIGHTING POLICY
21st June 1935
Page 32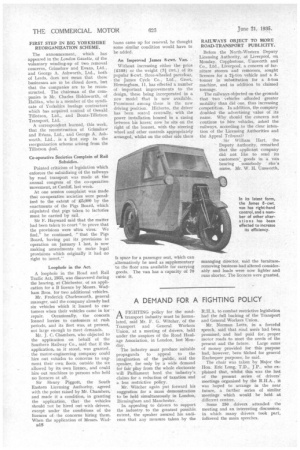 Page 32, 21st June 1935 —
A DEMAND FOR A FIGHTING POLICY
Close
A FIGHTING policy for the road!" transport industry must be formulated, said Mr. F. G. Witcher, of the Transport and General Workers Union, at a meeting of drivers, held under the auspices of the Road Haulage Association, in London, last Monday.
The industry must produce suitable propaganda to appeal to the imagination of the public, said the speaker, for only by a wide demand for fair play from the whole electorate will Parliament heed the industry's claims for a reduction of taxation and a less restrictive policy.
Mr. Witcher again put forward his suggestion for a mass demonstration tu be held simultaneously in London, Birmingham and Manchester.
In appealing to drivers to support the industry, to the greatest possible extent, the speaker assured his audience that any measure taken by the R.H.A. to combat restrictive legislation had the full backing of the Transport and General Workers Union.
Mr. Norman Letts, in a forceful speech, said that road users had been promised, and had paid for, proper motor roads to meet the needs of the present and the future. Large sums of money provided for this purpose had, however, been filched for general Exchequer purposes, he said.
The chair was taken by Major the Hon. Eric Long, T.D., J.P., who explained that, whilst this was the last of the present series of drivers' meetings organized by the R.H.A., it was hoped to arrange in the near future, a further series of similar meetings which would be held at different centres.
Some 250 drivers attended the meeting and an interesting discussion, in which many drivers took part, followed the main speeches.