One Hears
21st June 1935
Page 29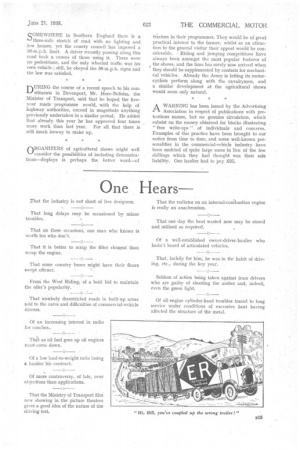 Page 29, 21st June 1935 —
One Hears
Close
That the industry is not short of live designers.
That long delays may be occasioned by minor troubles.
That on these occasions, one man who knows is worth ten who don't. .
That it is better to scrap the filter element than scrap the engine.
That some country buses might have their floors swept oftener.
From the West Riding, of a bold bid to maintain the oiler's popularity.
That unwisely derestricted roads in built-up areas add to the cares and difficulties of commercial-vehicle drivers.
Of an increasing interest in radio for coaches.
That as oil fuel goes up oil engines must come down.
Of a low load-to-weight ratio losing a haulier his contract.
Of more controversy, of late, over objections than applications.
That the Ministry of Transport film now showing in the picture theatres gives a good idea of the nature of the driving test. That the radiator on an internal-combustion engine is really an anachronism.
That one day the beat wasted now may be stored and utilized as required.
Of a well-established owner-driver-haulier who hadn't heard of articulated vehicles.
That, luckily for him, he was in the habit of driving, etc., during the key year.
Seldom of action being taken against tram drivers who are guilty of shooting the amber and, indeed, even the green light.
Of oil-engine cylinder-head troubles traced to long service under conditions of excessive heat having affected the structure of the metal.