Passing Comments
21st June 1935
Page 28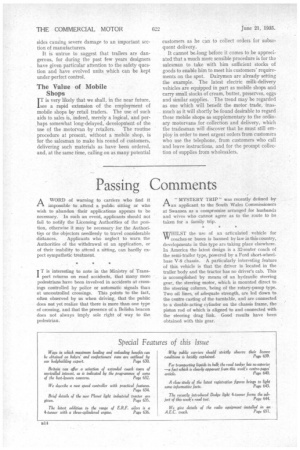 Page 29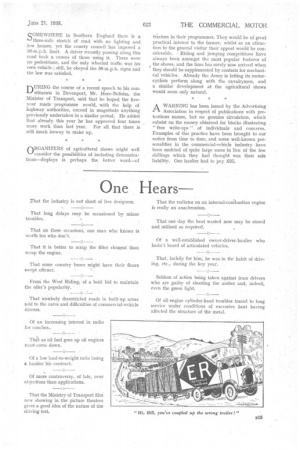 Page 28, 21st June 1935 —
Passing Comments
Close
AWORD of warning to carriers who find it impossible to attend a public sitting or who with to abandon their applications appears to be necessary. In such an event, applicants should not fail to notify the Licensing Authorities of the position, otherwise it may be necessary for the Authorities or the objectors needlessly to travel considerable
distances. Applicants who neglect to warn the Authorities of the withdrawal of an application, or of their inability to attend a sitting, can hardly expect sympathetic treatment.
T T is interesting to note in the Ministry of Trans' port returns on road accidents, that many more pedestrians have been involved in accidents at crossings controlled by police or automatic signals than at uncontrolled crossings. This points to the fact, often observed by us when driving, that the public does not yet realize that there is more than one type of crossing, and that the presence of a Belisha beacon does not always imply sole right of way to the pedestrian. A"MYSTERY TRIP" was recently defined by an applicant to the South Wales Commissioners at Swansea as a compromise arranged for husbands and wives who cannot agree as to the route to be taken for a family trip.
WHILST the use of an articulated vehicle for " coaches or buses is banned by law in this country, developments in this type are taking place elsewhere. In America the latest design is a 32-seater coach of the semi-trailer type, powered by a Ford short-wheelbase IT-8 chassis. A particularly interesting feature of this vehicle is that the driver is located in the trailer body and the tractor has no driver's cab. This is accomplished by means of an hydraulic steering gear, the steering motor, which is mounted direct to the steering column, being of the rotary-pump type. Two oil lines, of adequate strength. are led down to the centre casting of the turntable, and are connected to a double-acting cylinder on the chassis frame, the piston rod of which is aligned to and connected with the steering drag link. Good results have been obtained with this gear. SOM.EWHERE in Southern England there is a three-mile stretch of road with no lighting and few houses, yet the county council has imposed a 30-m.p.h. limit. A driver recently passing along this road took a census of those using it. There were no pedestrians, and the only wheeled traffic was his own vehicle ; still, he obeyed the 30-m.p.h. signs and the law was satisfied.
DURING the course of a -recent speech to his constituents in Devonport, Mr. Hare-Belisha, the Minister of Transport, said that he hoped the fiveyear roads programme would, with the help of highway authorities, exceed in magnitude anything previously undertaken in a similar period. He added that already this year he has approved four times more work than last year. For all that there is still much leeway to make up.
ORGANIZERS of agricultural shows might well consider the possibilities of including demonstrations—displays is perhaps the better word—of
tractors in their programmes. They would be of great practical interest to the farmer, whilst as an attraction to the general visitor their appeal would be considerable. Riding and jumping competitions have always been amongst the most popular features of the shows, and the time has surely now arrived when they should be supplemented by contests for mechanical vehicles. Already the Army is letting its motorcyclists perform along with the cavalrymen, and a similar development at the agricultural shows would seem only natural.
AWARNING has been issued by the Advertising Association in respect of publications with pretentious names, but no genuine circulation, which subsist on the money obtained for blocks illustrating "free write-ups" of individuals and concerns. Examples of this practice have been brought to our notice from time to time, and some well-known personalities in the commercial-vehicle industry have been mulcted of quite large sums in lieu of the few shillings which they had thought was their sole liability. One haulier had to pay 235.