Unjustified Prejudice Against Trailers
21st June 1935
Page 27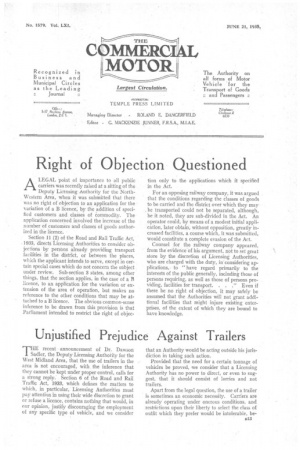 Page 28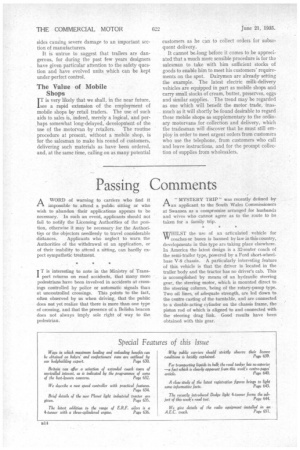 Page 27, 21st June 1935 —
Unjustified Prejudice Against Trailers
Close
THE recent announcement of Dr. Dawson Sadler, the Deputy Licensing Authority for the West Midland Area, that the use of trailers in the area is not encouraged, with the inference that they cannot be kept under proper control, calls for a strong reply. Section 6 of the Road and Rail Traffic Act, 1933, which defines the matters to which, in particular, Licensing Authorities must pay attention in using their wide discretion to grant or refuse a licence, contains nothing that would, in our opinion, justify discouraging the employment of any specific type of vehicle, and we consider that an Authority would be acting outside his jurisdiction in taking such action.
Provided that the need for a certain tonnage of vehicles be proved, we consider that a Licensing Authority has no power to direct, or even to suggest, that it should consist of lorries and not trailers.
Apart from the legal question., the use of a trailer is sometimes an economic necessity. Carriers are already operating under onerous conditions, and restrictions upon their liberty to select the class of outfit which they prefer would be intolerable, be sides causing severe damage to an important section of manufacturers.
It is untrue to suggest that trailers are dangerous, for during the past few years designers have given particular attention to the safety question and have evolved units which can be kept under perfect control.
The Value of Mobile Shops
I T is very likely that we shall, in the near future, see a rapid extension of the employment of mobile shops by retail traders. The use of such aids to sales is, indeed, merely a logical, and perhaps somewhat long-delayed, develoornent of the use of the motorvan by retailers. The routine procedure at present, without a mobile shop, is for the salesman to make his round of customers, delivering such materials as have been ordered, and, at the same time, calling on as many potential customers as he can to collect orders for subsequent delivery.
It cannot be long before it comes to be appreciated that a much more sensible procedure is for the salesman to take with him sufficient stocks of goods to enable him to meet his customers' requirements on the spot. Dairymen are already setting the example. The latest electric milk-delivery vehicles are equipped in part as mobile shops and carry small stocks of cream, butter, preserves, eggs and similar supplies. The trend may be regarded as one which will benefit the motor trade, inasmuch as it will shortly be found desirable to regard these mobile shops as supplementary to the ordinary motorvans for collection and delivery, which the tradesman will discover that he must still employ in order to meet urgent orders from customers who use the telephone, from customers who call and leave instructions, and for the prompt collection of supplies from wholesalers.