Right of Objection Questioned
21st June 1935
Page 27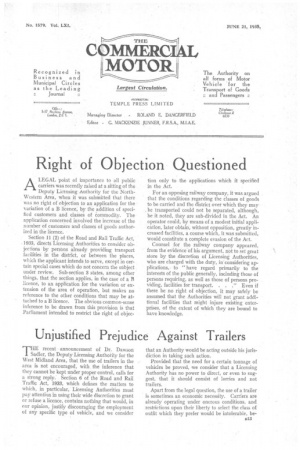 Page 27, 21st June 1935 —
Right of Objection Questioned
Close
ALEGAL point of importance to all public carriers was recently raised at a sitting of the Deputy Licensing Authority for the NorthWestern Area, when it was submitted that there was no right of objection to an application for the variation of a B licence, by the addition of specified customers and classes of Commodity. The application concerned involved the increase of the number of customers and classes of goods authorized in the licence.
Section 11(2) of the Road and Rail Traffic Act, 1933, directs Licensing Authorities to consider objections by persons already providing transport facilities in the district, or between the places, which the applicant intends to serve, except in certain special cases which do not concern the subject under review. Sub-section 3 states, among other things, that the section applies, in the case of a B licence, to an application for the variation or extension of the area of operation, but makes no reference to the other conditions that may be attached to a B licence. The obvious common-sense inference to be drawn from this provision is that Parliament intended to restrict the right of objec tion only to the applications which it specified in the Act.
For an opposing railway company, it was argued that the conditions regarding the classes of goods to be carried and the district over which they may• be transported could not be separated, although, be it noted, they are sub-divided in the Act. An operator could, by means of a modest initial application, later obtain, without opposition, greatly increased facilities, a course which, it was submitted, would constitute a complete evasion of the Act.
Counsel for the railway company appeared, from the evidence of his argument, not to set great store by the discretion of Licensing Authorities, who are charged with the duty, in considering applications, to "have regard primarily to the interests of the public generally, including those of persons requiring, as well as those of persons providing, facilities for transport. . . ." Even if there be no right of objection, it may safely be assumed that the Authorities will not grant additional facilities that might injure existing enterprises, of the extent of which they are bound to have knowledge.