Holiday chaos
21st July 1984
Page 8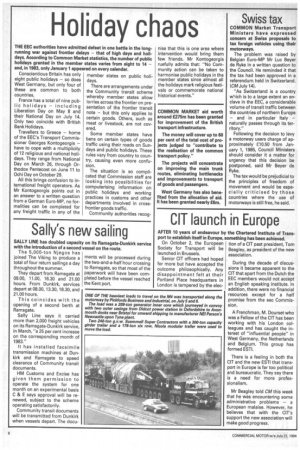 Page 8, 21st July 1984 —
Holiday chaos
Close
THE EEC authorities have admitted defeat in one battle in the longrunning war against frontier delays — that of high days and holidays. According to Common Market statistics, the number of public holidays granted in the member states varies from eight to 14 — and, in 1983, only January 1 appeared on every calendar.
Conscientious Britain has only eight public holidays — so does West Germany, but only four of these are common to both countries.
France has a total of nine public holidays — including Liberation Day on May 8 and their National Day on July 14. Only two coincide with British Bank Holidays.
Travellers to Greece — home of the EEC's Transport Commissioner Georges Kontogeorgis — have to cope with a multiplicity of 12 religious and national holidays. They range from National Day on March 26, through Orthodox Pentecost on June 11 to Ochi Day on October 29.
All this brings confusion to international freight operators. As Mr Kontogeorgis points out in an answer to a written question from a German Euro-MP, no formalities can be completed for any freight traffic in any of the member states on public holidays.
There are arrangements under the Community transit scheme whereby member states allow lorries across the frontier on presentation of the frontier transit note — but this only applies to certain goods. Others, such as meat or livestock, are not covered.
Some member states have bans on certain types of goods traffic using their roads on Sundays and public holidays. These rules vary from country to country, causing even more confusion.
The situation is so complicated that Commission staff are looking into possibilities for computerising information on public holidays and working practices in customs and other departments involved in crossfrontier goods traffic.
Community authorities recog nise that this is one area where intervention would bring them few friends. Mr Kontogeorgis ruefully admits that: "No Community action can be taken to harmonise public holidays in the member states since almost all the holidays mark religious festivals or commemorate national historical events."