Bus fuss will pass
21st July 1984
Page 4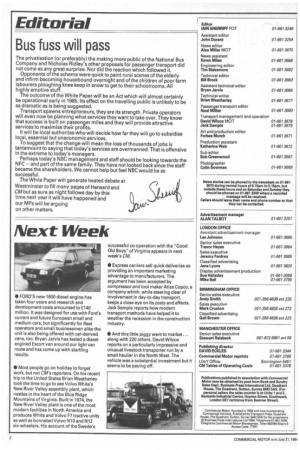 Page 4, 21st July 1984 —
Bus fuss will pass
Close
The privatisation (or preferably) the making more public of the National Bus Company and Nicholas Ridley's other proposals for passenger transport did not come as any great surprise. Nor did the reaction which followed it.
Opponents of the scheme were quick to paint rural scenes of the elderly and infirm becoming housebound overnight and of the children of poor farm labourers ploughing knee keep in snow to get to their schoolrooms. All highly emotive stuff.
The outcome of the White Paper will be an Act which will almost certainly be operational early in 1985. Its effect on the travelling public is unlikely to be as dramatic as is being suggested.
Transport spawns entrepreneurs, they are its strength. Private operators will even now be planning what services they want to take over. They know that success is built on passenger miles and they will provide attractive services to maximise their profits.
It will be local authorites who will decide how far they will go to subsidise local, essential but uneconomic services.
To suggest that the change will mean the loss of thousands of jobs is tantamount to saying that today's services are overmanned. That is offensive in the extreme to today's managers.
Perhaps today's NBC management and staff should be looking towards the NFC — and part of the same family. They have not looked back since the staff became the shareholders. We cannot help but feel NBC would be as successful.
The White Paper will generate heated debate at Westminster to fill many pages of Hansard and CM but as sure as night follows day by this time next year it will have happened and our MPs will be arguing on other matters.