RO-110 ON THE DANUBE
21st July 1984
Page 35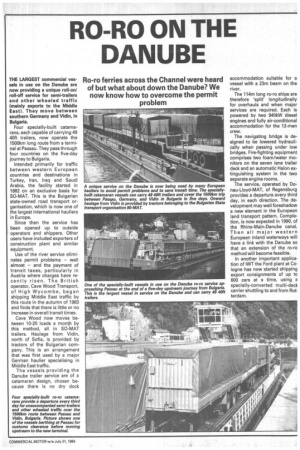 Page 35, 21st July 1984 —
RO-110 ON THE DANUBE
Close
Ro-ro ferries across the Channel were heard of but what about down the Danube? We now know how to overcome the permit problem
THE LARGEST commercial vessels in use on the Danube are now providing a unique roll-on/ roll-off service for semi-trailers and other wheeled traffic (mainly exports to the Middle East). They move between southern Germany and Vidin, in Bulgaria.
Four specially-built catamarans, each capable of carrying 49 40ft trailers, now operate the 1500km long route from a terminal at Passau. They pass through four countries on the five-day journey to Bulgaria.
Intended primarily for traffic between western European countries and destinations in Turkey, Iran, Iraq and Saudi Arabia, the facility started in 1982 on an exclusive basis for SO-MAT. This is the Bulgarian state-owned road transport organisation, which is now one of the largest international hauliers in Europe.
Since then the service has been opened up to outside operators and shippers. Other users have included exporters of construction plant and similar equipment.
Use of the river service eliminates permit problems — well almost — and the payment of transit taxes, particularly in Austria where charges have recently risen. The British operator, Cave Wood Transport, of High Wycombe, began shipping Middle East traffic by this route in the autumn of 1983 and finds that there is little or no increase in overall transit times.
Cave Wood now moves between 10-20 loads a month by this method, all in SO-MAT trailers. Haulage from Vidin, north of Sofia, is provided by tractors of the Bulgarian company. This is an arrangement that was first used by a major German haulier specialising in Middle East traffic.
The vessels providing the Danube trailer service are of a catamaran design, chosen because there is no dry dock accommodation suitable for a vessel with a 23m beam on the river.
The 114m long ro-ro ships are therefore 'split' longitudinally for overhauls and when major services are required. Each is powered by two 940kW diesel engines and fully air-conditional accommodation for the 12-men crew.
The navigating bridge is designed to be lowered hydraulically when passing under low bridges. Fire-fighting equipment comprises two foam/water monitors on the seven lane trailer deck and an automatic Halon extinguishing system in the two separate engine rooms.
The service, operated by Donau-Lloyd-MAT, of Regensburg provides a departure every third day, in each direction. The development may well foreshadow a new element in the European land transport pattern. Completion, is now expected in 1990, of the Rhine-Main-Danube canal. Then all major western European inland waterways will have a link with the Danube so that an extension of the ro-ro method will become feasible.
In another important application of IWT the Ford plant at Cologne has now started shipping export consignments of up to 600 cars at a time, using a specially-converted multi-deck carrier shuttling to and from Rotterdam.