HSE exemptions
21st July 1984
Page 20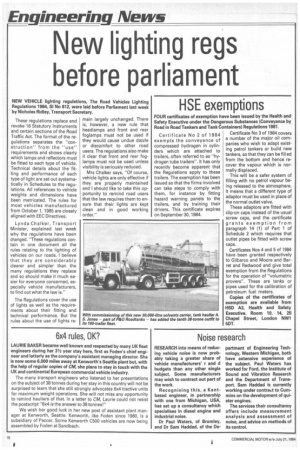 Page 20, 21st July 1984 —
HSE exemptions
Close
FOUR certificates of exemption have been issued by the Health and Safety Executive under the Dangerous Substances (Conveyance by Road in Road Tankers and Tank Containers) Regulations 1981.
Certificate No 2 of 1984 exempts the conveyance of compressed hydrogen in cylinders which are attached to trailers, often referred to as "hydrogen tube trailers". It has only recently become apparent that the Regulations apply to these trailers. The exemption has been issued so that the firms involved can take steps to comply with them, for instance by fitting hazard warning panels to the trailers, and by training their drivers. This certificate expires on September 30, 1984. Certificate No 3 of 1984 covers a number of the major oil companies who wish to adapt existing petrol tankers or build new tankers, so that they can be fill ed from the bottom and hence recover the vapour which is normally displaced.
This will be a safer system of filling with no petrol vapour being released to the atmosphere. It means that a different type of adaptor must be used in place of the normal outlet valve.
These adaptors are fitted with clip-on caps instead of the usual screw caps, and the certificate grants exemption from paragraph 14 (1) of Part 1 of Schedule 2 which requires that outlet pipes be fitted with screw caps.
Certificates Nos 4 and 5 of 1984 have been granted respectively to Gilbarco and Moore and Barret and Redwood and give total exemption from the Regulations for the operation of "volumetric provers". These are tanks or pipes used for the calibration of petroleum fuel meters.
Copies of the certificates of exemption are available from HSD A3, Health and Safety Executive, Room 10. 14, 25 Chapel Street, London NW1 5DT.