Where to Find Haulage Business
21st July 1933
Page 61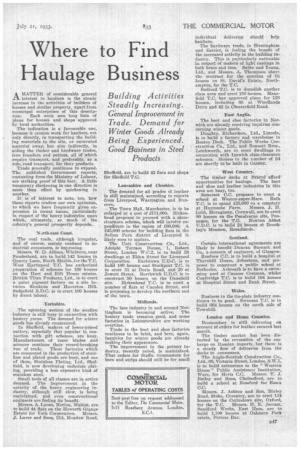 Page 61, 21st July 1933 —
Where to Find Haulage Business
Close
Building Activities Steadily Increasing. General Improvement in Trade. Demand for Winter Goods Already Being Experienced. Good Business in Steel Products
AMATTER of considerable general interest to hauliers is the steady increase in the activities of builders of houses and similar property, apart from municipal enterprises of this descrip
tion. Each week sees long lists of plans for houses and shops approved by local authorities.
The indication is a favourable one, because it creates work for hauliers, not Only directly, in transporting the building materials to the site, or excavated material away, but also indirectly, in aiding the timber and hardware trades, iron founders and potters, all of which require transport, and preferably, as a rule, road transport, for their products.
Trade generally continues to expand. The published Government reports, emanating from the Ministry of Labour, are striking proof of this fact. A little temporary slackening in one direction is more than offset by quickening in another.
It is of interest to note, too, how those reports confirm our own optimism, to which we have frequently given expression in recent issues, particularly in respect of the heavy industries upon which, ultimately, so much of the country's general prosperity depends.
'North-east Coast.
The coal trade, although irregular, and of course, mainly confined to industrial consumers, is improving.
Messrs. W. D. Allison, Whitburn, near Sunderland, are to build 142 houses in Quarry Lane, South Shields, for the T.C. West Hartlepool T.C. has authorized preparation of schemes for 160 houses on the Hart and Rift House estates. 33ritish Titan Products, Ltd., is to erect a paint pigment factory on a site between Stockton and Haverton Hill. Sedgefield R.D.C. is to erect 100 houses by direct labour.
.Yorkshire.
The spinning section of the woollen industry is still busy in connection with hosiery yarns. The demand for winter goods has already commenced.
In Sheffield, makers of lower-priced cutlery, especially that popular in connection with gift schemes, are busy. Manufacturers of razor blades and scissors continue their record-breaking run of trade. Those factories which are concerned in the production of stainless and plated goods are busy, and one of them, Stainless Plating, Ltd., Sheffield, is now developing cadmium plating, providing a less expensive kind of stainless steel.
Small tools of all classes are in active demand. The improvement in the activity of the heavy engineering industry, although still slow, is being maintained, and even constructional engineers are feeling its benefit. fe.ssrs. A. Lyons, Norton, Mallon, are to build 44 flats on the Ileworth Grange Estate for York Corporation. Messrs. J. Laver and Sons, 214, Meadow Road,
Sheffield, are to build 42 fiats and shops for Sheffield T.C.
Lancashire and Cheshire.
The demand for all grades of leather is still maintained, according to reports from Liverpool, Warrington and Runcorn.
The Town Hall, Manchester, is to be enlarged at a cost of £711,000. Birkenhead proposes to proceed with a slumclearance scheme, which will involve expenditure in the region of £60,000. A £45,000 scheme for building flats in the Sefton Park district of Liverpool is likely soon to mature.
The Unit Construction Co., Ltd., Adelphi Terrace House, 1, Robert Street, London leV.C.2, is to build 28 dwellings at Elden Street for Liverpool Corporation. Earlstown U.D.C. is to build 100 houses and Stockport T.C. is to erect 31. at Doris Road, and 20 at Jowett Street. Northwich U.D.C. is to construct 50 houses on the Danefield
site. Birkenhead T.C. is to erect a number of flats at Camden Street, and is proposing to develop the northern end of the town.
Midlands.
The lace industry in and around Nottingham is becoming active. The hosiery trade remains good, and some factories in Leicestershire are working overtime.
Trade in the boot and shoe factories continues to be brisk, and here, again, inquiries for winter goods are already making their appearance.
The improvement in the pottery industry, recently noted, is maintained. That orders for Staffs. ironmasters for bars and strips should still be for small individual deliveries should help hauliers.
The hardware trade, in Birmingham and district, is feeling the benefit of the increased activity in the building industry. This is particularly noticeable in respect of makers of light castings in both brass and iron. Sabin and Young, Ltd., and Messrs. A. Thompson share the contract for the erection of 76 houses on St. David's Estate, Northampton, for the T.C.
Bedford T.C. is to demolish another slum area and erect 150 houses. Mansfield T.C. has approved plans for 128 houses, including 66 at Woodlands Drive and 42 in Chesterfield Road.
East Anglia.
The boot and shoe factories in Norwich are already receiving inquiries concerning winter goods.
Doughty, Richardson, Ltd., Lincoln, is to build a factory and warehouse in Boston Dock. The Public Works Construction Co., Ltd., and Bennett Bros., Letchworth, are to erect dwellings in connection with Ipswich slum-clearance schemes. Houses to the number of 54 are shortly to be built in Caister.
West Country.
The timber docks at Bristol afford' opportunities for haulage. The boot and shoe and leather industries in this area are busy, too.
Somerset C.C. proposes to erect a school at Weston-super-Mare. Bath T.C. is to spend £35,000 on a cemetery at Haycombe Farm. Messrs. J. H. Lobb, Mevagissey, Cornwall, are to erect 80 houses on the Penalverne site, Penzance, for the T.C. Newton Abbot U.D.C. is to build 24 houses at Brooking's Meadow, Broadlands.
Scotland.
Certain international agreements are likely to benefit Duncan Stewart and Co" a concern of engineers, of Glasgow.
Renfrew C.C. is to build a hospital at Thornhill House, Johnstone, and pro. poses to construct a public school at Netherlee. Arbroath is to have a swimming pool at Cannon Common, whilst Coatbridge T.C. is to build 104 houses at Hospital Street and Bank Street.
Wales.
Business in the tin-plate industry continues to be good. Swansea T.C. is to build 664 houses on the north side of Townhill.
London and Home Counties.
Bermondsey is still delivering on account of orders for leather secured last month.
The timber market has been disturbed by the revocation of the embargo on Russian imports, but there is a steady flow of deliveries from the docks to consumers.
The Anglo-Scottish Construction Co., Ltd., 68, Victoria Street, London S.W.1, is to build extensions to the "Western House" Public Assistance Institution, Ware, for Herta C.C. Messrs. T. J. Bailey and Sons, Chelmsford, are to build a school at Romford for Essex C.C.
Messrs. J. Ashton and Son, Binley Road, Stoke, Coventry, are to erect 134 houses on the Cutteslowe site, Oxford, for the T.C. Messrs, H. E. Jerram, Sandford Works, East Ham, are to build 1,100 houses at Oaktnere Park' estate, Potters Bar. •
Tags
Locations
:
Manchester
,
Norwich
,
Coventry
,
Estate
,
Sheffield
,
Glasgow
,
Nottingham
,
London
,
Birmingham
,
Liverpool
,
Bristol
,
Sunderland
,
Lincoln
,
Oxford