Various Species of Ash, the A Material that is Unsur ,
21st July 1933
Page 57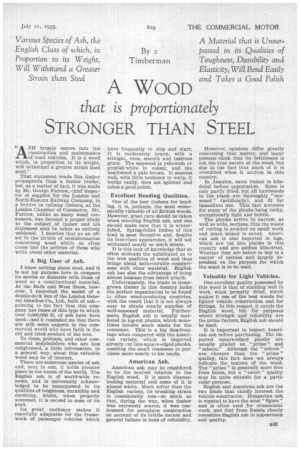 Page 57, 21st July 1933 —
Various Species of Ash, the A Material that is Unsur ,
Close
Keywords :
Forestry
,
Wood
,
Structural Engineering
,
Fraxinus
,
Timber Industry
,
Ash
,
Lumber
,
Engineering
,
Film
,
Construction
,
Hospitality / Recreation
English Class of which, in By 2i passed in its Qualities of Proportion to its Weight, Timberrnan Toughness, Durability and
Will Withstand a Greater Elasticity, Will Bend Easily
Strain than Steel A WOOD and Takes a Good Polish
that is proportionately
STRONGER THAN STEEL
A " SH largely enters into the
construction and maintenance of road vehicles. It is a wood which, in proportion to its weight, will withstand a greater strain than steel."
That statement reads like timber propaganda from a timber trader, but, as a matter of fact, it was made by Mr. George Farrow, chief inspector of supplies for the London and North-Eastern Railway Company, in a lecture on railway timbers, at the London Chamber of Commerce. Mr. Farrow, unlike so many wood consumers, has devoted a proper study to the subject of timber and his statement may be taken as entirely unbiased. I mention that as an offset to the tit-bits of misinformation concerning wood which so often creep into the articles of those who write about other material.
IL Big User of Ash.
I know nothing about steel, and it is not my purpose here to compare its merits or demerits with those of wood as a constructional material. At the Bath and West Show, however, I inspected the model of a double-deck bus of the London Gene-. ral Omnibus Co., Ltd., built of ash— pointing to the fact that this company has buses of this type in which over 5,000,000 ft. of ash have been used—and it reminded me that there are still some experts in the commercial world who have faith in the old and tried product of the tree.
To them, perhaps, and other commercial bodybuilders who are less enlightened, a little information, in a general way, about this valuable wood may be of interest.
There are numerous species of ash and, next to oak, it holds premier place in the woods of the world. The English ash is of world-wide renown, and is universally acknowledged to be unsurpassed in its qualities of toughness, durability and elasticity, whilst, when properly seasoned, it is second to none of its kind.
Its great resiliency makes it especially adaptable for the framework of passenger vehicles which have frequently to stop and start. It is moderately heavy, with a straight, even, smooth and lustrous grain. The sapwood is yellowish or greyish-white in colour, and the heartwood a pale brown. It seasons well, with little tendency to warp, it works easily, does not splinter and takes a good polish.
Excellent Bending Qualities.
One of the best timbers for bending, it is, perhaps, the most economically valuable of all British woods. However, great care should be taken when selecting English ash, and one should make sure that it is winterfelled. Spring-felled timber of this kind is most deceptive and, despite its first-class appearance, it will not withstand nearly so much strain.
It is this lack of knowledge that so often misleads the uninitiated as to the true qualities of wood and thus brings about unfavourable comparisons with other material. English ash has also the advantage of being almost immune from insect attack.
Unfortunately, the trade in homegrown timber in this dountry lacks the perfect organization to be found ia other wood-producing countries, with the result that it is not always easy to obtain steady supplies of well-seasoned material. Furthermore, English ash is usually marketed in log-cut planks, which sometimes involve much waste for the consumer. This is a big disadvantage when compared with the American variety, which is imported already cut into square-edged planks, enabling the small consumer to purchase more nearly to his needs.
American Ash.
American ash may be considered to be the nearest relation to the English wood. It is much cleanerlooking material and some of it is almost white. Much softer than the English variety, its breaking strain is considerably less—so much so that, during the war, when timber was extremely scarce, it was condemned for aeroplane construction on account of its brittle nature and general failure in tests of reliability. However, opinions differ greatly concerning that matter, and many persons think that its brittleness is not the true nature of the wood, but due to the fact that much of it is overdried when it arrives in this country.
In America, sawn timber is kilndried before exportation. Some is only partly dried, but all hardwoods in the plank are thoroughly " seasoned " (artificially), and fit for immediate use. This fact accounts for many of the planks being corky, exceptionally light and brittle.
The planks arrive in narrow, as well as wide, sections, thus the waste of cutting is avoided on small work and much money is saved. American ash is also imported in logs, which are cut into planks in this country and are seldom kiln-dried. Whether they are better to buy is a matter of opinion and largely dependent on the purpose for which the wood is to be used.
Valuable for Light Vehicles.
One excellent quality possessed by this wood is that of standing well in work when properly dried, which makes it one of the best woods for lighter vehicle construction and for fittings. In this respect, it excels the English wood, but for purposes where strength and reliability are the prime factors, English ash should be used.
It is important to inspect American ash before purchasing. The imported square-edged planks are usually graded as "prime" and "selects." Although the " selects " are cheaper than the " prime " quality, this fact does not always indicate the texture of the wood. The " prime " is generally more free from knots, but a " select " quality may be quite suitable for a particular purpose.
English and American ash are the two kinds that chiefly interest the vehicle constructor. Hungarian ash is reputed to have the most " figure " and is often used for ornamental work, and that from Russia closely resembles English ash in appearance and quality.