Operating Aspects of
21st July 1933
Page 50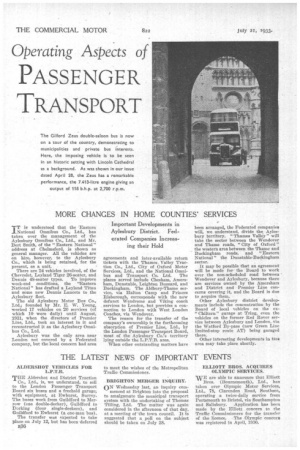 Page 50, 21st July 1933 —
Operating Aspects of
Close
PASSENGER TRANSPORT
MORE CHANGES IN HOME COUNTIES' SERVICES
Important Developments in Aylesbury District. Federated Companies Increasing their Hold IT is understood that the Eastern National Omnibus Co., Ltd., has taken over the management of the Aylesbury Omnibus Co., Ltd., and Mr. Bert Smith, of the " Eastern National" address at Chelmsford, is shown as general manager. All the vehicles are on hire, however, to the Aylesbury Co., which is being retained, for the present, os a unit.
There are 24 vehicles involved, of the Chevrolet, Leyland Tiger 26-seater, and Dennis 48-seater types. To improve week-end conditions, the `'Eastern National" has drafted a Leyland Titan and some new Dennis Lancets to the Aylesbury fleet.
The old Aylesbury Motor Bus Co., Ltd.; founded by Mr. E. W. young, -worked 17 vehicles on 20 services (of -which 10 were daily) until August, 1031, when the directors of Premier Line, Ltd., took an interest in it and reconstructed it as the Aylesbury Omnibus Co., Ltd.
Aylesbury was the only area near London not covered by a Federated company, but the local concern had area
agreements and inter-available return tickets with the Thames. Valley Traction Co., Ltd., City of Oxford Motor Services, Ltd., and the National Omni
bus and Transport Co. Ltd. The places served include Chesham, Ainersbarn, Dunstable, Leighton Bugzard, and Buckingham. The Aldhury-Thame service, via Halton Camp and Princes Risborough, corresponds with the now defunct Wendrome and Viking coach services to London, but provides a connection to London with West London Coaches, via Wendover.
The reason for the transfer of the company's ownership is the forthcoming absorption of Premier Line, Ltd., by the London Passenger Transport Board, most of the Aylesbury Co.'s territory lying outside the L.p.T.B. area.
When other outstanding matters have been arranged, the Federated companies will, we understand, divide the Aylesbury territory. "Thames Valley" will take the sector between the Wendover and Thame roads, "City of Oxford" the western area between the Thame and Buckingham roads, and "Eastern National" the Dunstable-Buckingham sector.
It may be possible that an agreement will be made for the Board to work over the non-scheduled road between Wendover and Aylesbury, because there are services owned by the Amershara and District and Premier Line concerns covering it, and the Board is dne to acquire them. • Other Aylesbury district developments include the concentration by the Board of local vehicles on the ex" Chiltern" garage at Tring, even the vehicles on the former Red Rover service between Aylesbury and London, via the Watford By-pass (now Green Line limited-stop route AT) being garaged there.
Other interesting developments in tins area may take place shortly.