AIR TRANSPORT NEWS
21st July 1933
Page 49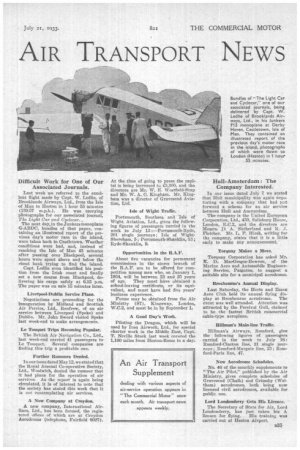 Page 49, 21st July 1933 —
AIR TRANSPORT NEWS
Close
Difficult Work for One of Our Associated Journals.
Last week we referred to the excellent flight made by Capt. W. Ledlie, of Brooklands Airways, Ltd., from the Isle of Man to Heston in 1 hour 55 minutes (139.57 m.p.h.). He was carrying photographs for our associated journal, The Light Car and Cyclecar.
The next day, in the Junkers monoplane G-ABDC, bundles of that paper' containing an illustrated report of the previous day's motor race in the island, were taken back to Castletown. Weather conditions were bad, and, instead of reaching the Isle of Man 45 minutes after passing over Blackpool, several hours were spent above and below the cloud bank trying to find the island.
Capt. Ledlie even identified his posttion from the Irish coast and finally set a new course from Blackpool, delivering his cargo safely at 6.15 p.m. The paper was on sale 15 minutes later.
Liverpool-Dublin Service Plans.
Negotiations are proceeding for the inauguration by Midland and Scottish Air Ferries, Ltd., Renfrew, of an air service between Liverpool eSpeke) and Dublin. Mr. John Sword visited Speke last week-end to make arrangements.
Le Touquet Trips Becoming Popular. The British Air Navigation Co., Ltd., last week-end carried 41 passengers to Le Touquet. Several companies are finding this trip a profitable one.
Further Rumours Denied.
In our issue dated May 12, we stated that the Royal Arsenal Co-operative Society, Ltd., Woolwich, denied the rumour that it had plans for the operation of air services. As the report is again being circulated, it is of interest to note that the society has stated this week that it is not contemplating air services.
A New Company at Croydon.
A. new company, International Airlines, Ltd., has been formed, the registered offices of which are at Croydon Aerodrome (telephone, Fairfield 6027).
At the time of going to press the capital is being increased to 18,300, and the directors are Mr. W. K Westfield-Stap and Mr. W. A. C. Kingham, Mr. Kingham was a director of Gravesend Aviation, Ltd.
Isle of Wight Traffic. .
Portsmouth, Southsest. and 'Isle of Wight Aviation, Ltd., gives the following figures of passengers carried in the week to July 13 :—Portsmouth-Ryde, 201 single journeys; Isle of WightShoreham, 5; Portsmouth-Shanklin, 13; Ryde-Shanklin, D.
Opportunities in the R.A.F.
About five vacancies for permanent commissions in the stores branch of the R.A.F. are to be offered for competition among men who' on January 1, 1934, will be between 2-3 and 25 years of age. They must have obtained a school-leaving certificate or its equivalent, and must have had five years' business experience.
Forms may be obtained from the Air Ministry (Si), Kingsway, London, W.C.2, and must be in by September 1.
A Good Day's Work.
Piloting the Dragon, which will be used by Iraq Airwork, Ltd., for special charter work in the Middle East, Capt. T. Neville Stack last week covered the 1,100 miles from Heston-Rome in a day Hull-Amsterdam: The Company Interested.
In our issue dated Judy 7 we stated that Hull municipality was again negotiating with a company that had put forward a scheme for an air service between Hull and Amsterdam.
The company is the United European Corporation, Ltd., 439, Salisbury House, London, E.C.2, and the directors are Messrs. J. A. SUtherland and R. J. Fletcher. Mr. L. P. Hirsh, writing for the company, states that it is a little early to make any announcement.
Torquay Makes a Move.
Torquay Corporation has asked Mr. K. D., MaeGregor-Bowpon, of the Marine Acre and Automobile Engineering Service, Paignton, to suggest a suitable site for a municipal aerodrome.
Broxbourrte's Annual Display.
Last Saturday, the Ilerts and Essex Acre Club held its annual flying display at Broxbourne aerodrome. The event was well attended. Attention .was attracted by the Percival Gull, claimed to be the fastest British commercial cabin-type aeroplane.
Hillman's Main-line Traffic.
Hillman's Airways, Rumford, give the following figures of passengers carried in the week to July 16: Romford-Clacton line, 31 single journeys; Romford-Margate line, 23; Romford-Paris line, 47.
New Aerodrome Schedules,
No. 46 of the monthly supplements to "The Air Pilot," published by the Air Ministry, gives complete schedules of Gravesend (Chalk) and Grimsby (Waltham) aerodromes, troth being now licensed civil aerodromes, available for public use.
Lord Londonderry Gets His Licence. The Secretary of State for Air, Lord Londonderry, has just taken his A
licence for flying. His training was carried out at Heston Airport.