ONE HEARS
21st July 1933
Page 33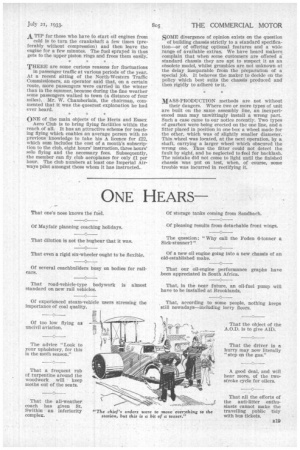 Page 33, 21st July 1933 —
ONE HEARS
Close
That one's nose knows the fuel.
Of Mayfair planning coaching holidays.
That dilution is not the bugbear that it was.
That even a rigid six-wheeler ought to be flexible.
Of several coachbuilders busy on bodies for railcars.
That road-vehicle-type bodywork is almost standard on new rail vehicles.
Of experienced steam-vehicle users stressing the importance of coal quality.
Of too low flying as uncivil aviation.
The advice "Look to your upholstery, for this is the moth season."
That a frequent rub of turpentine around the woodwork will • keep moths out of the seats.
That the all-weather coach has given St. Swithin an inferiority complex. Of storage tanks coming from Sandbach.
Of pleasing results from detachable front wings.
The question: "Why call the Foden 13-tonner a Sick-stunner?"
Of a new oil engine going into a new chassis of an old-established make.
That our oil-engine performance graphs have been appreciated in South Africa.
That, in the near future, an oil-fuel pump will have to be installed at Brooklands.
That, according to some people, nothing keeps still nowadays—including lorry floors.
That the object of the A.O.D. is to give AID.
That the driver in a hurry may now literally "step op the gas."
A good deal, and will hear more, of the twostroke cycle for oilers.
That all the efforts of the anti-litter enthusiasts cannot make the travelling public tidy with bus tickets.