Passing Comments
21st July 1933
Page 32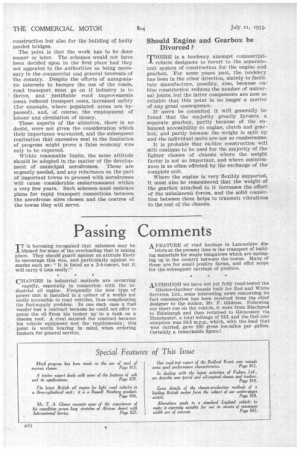 Page 33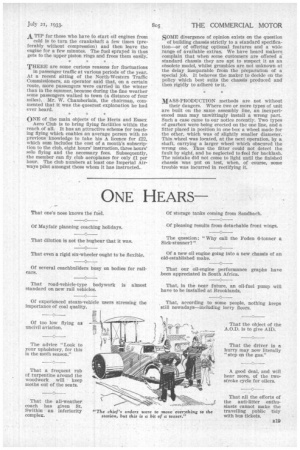 Page 32, 21st July 1933 —
Passing Comments
Close
TT is becoming recognized that salesmen may be blamed for some of the overloading that is taking place. They should guard against an attitude likely to encourage this vice, and particularly against remarks such as-: "It is listed as a 3-4-tonner, but it will carry 6 tons easily."
CFIANGES in industrial methods are occurring rapidly, especially in connection with the industrial oil engine. Frequently the new type of power unit is installed in a corner of a works not easily accessible to road vehicles, thus complicating the fuel-supply problem. In one such case a fuel vendor lost a contract because he could not offer to pump the oil from his tanker up• to a tank on a cinema roof. A rival secured the contract because his vehicle equipment met the requirements; this point is worth bearing in mind, when ordering tankers for general service.
A_ FEATURE of road haulage In Lancashire dis
tricts at the present time is the transport of building materials for single bungalows which are springing up in the country between the towns. Many of these are for small poultry farms, and offer scope for the subsequent carriage of produce.
ALTHOUGH we have not yet fully road-tested the
Gloster-Gardner chassis built for Red and White Services, Ltd., some interesting news concerning its fuel consumption has been received from the chief designer to the maker, Mr. F. Gibbins. Following our short run on the vehicle, it went from Blackpool to Edinburgh and then returned to Gloucester via Manchester, a total mileage of 813, and the fuel consumption was 20.3 m.p.g., which, with the load that was carried, gave 160 gross ton-miles per gallon. Certainly a remarkable figure A, TIP for those who have to start oil engines from cold is to turn the crankshaft a few times (preferably without compression) and then leave the engine for a few minutes. The fuel sprayed in thus gets to the upper piston rings and frees them easily.
THERE are some curious reasons for fluctuations in passenger traffic at various periods of the year. At a recent sitting of the North-Western Traffic Commissioners, an operator said that, on a certain route, more passengers were carried in the winter than in the summer, because during the fine weather some passengers walked to town (a distance of four miles). Mr. W. Chamberlain, the chairman, commented that it was the queerest explanation he had ever heard.
ONE of the main objects of the Herts and Essex Aero Club is to bring flying facilities within the reach of all. It has an attractive scheme for teaching flying which enables an average person with no previous knowledge to take his A licence for £22, which sum includes the cost of a month's subscription to the club, eight hours' instruction, three hours' solo flying and the necessary fees. Subsequently, the member can fly club aeroplanes for only £1 per hour. The club numbers at least one Imperial Airways pilot amongst those whom it has instructed. SOME divergence of opinion exists on the question of building chassis strictly to a standard specification—or of offering optional features and a wide range of available extras. We have heard makers complain that when some customers are offered a standard chassis they are apt to suspect it as an obsolete model, whilst grumbles are not unknown at the delay inseparable from the preparation of a special job. It behoves the maker to decide on the policy which best suits the chassis produced and then rigidly to adhere to it.
MASS-PRODUCTION methods are not without their dangers. Where two or more types of unit are built on the same assembly line, an inexperienced man may unwittingly install a wrong part. Such a case came to our notice recently. Two types of .gearbox were being erected on the one line, and a fitter placed in position in one box a wheel made for the other, which was of slightly smaller diameter. This wheel was located, at the next operation, by a shaft, carrying a larger wheel which obscured the wrong one. Thus the fitter could not detect the fault by sight, and he neglected to feel for backlash. The mistake did not come to light until the finished chassis was put on test, when, of course, some trouble was incurred in rectifying it.