Home-produced Fuel Encouraged
21st July 1933
Page 31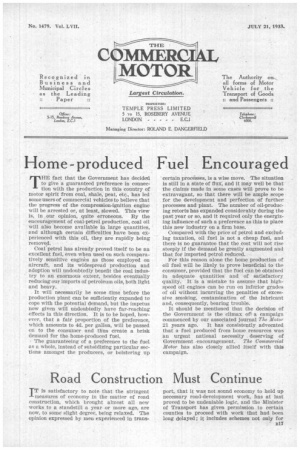 Page 31, 21st July 1933 —
Home-produced Fuel Encouraged
Close
THE fact that the Government has decided to give a guaranteed preference in connection with the production in this country of motor spirit from coal, shale, peat, etc., has led some users of commercial vehicles to believe that the progress of the compression-ignition engine will be arrested or, at least, slowed. This view is, in our opinion, quite erroneous. By the encouragement of coal-petrol production, coal oil will also become available in large quantities, end although certain difficulties have been experienced with this oil, they are rapidly being removed.
• Coal petrol has already proved itself to be an excellent fuel, even when used on such comparatively sensitive engines as those employed on aircraft, and its widespread production and adoption will undoubtedly benefit the coal industry to an enormous extent, besides eventually reducing-our imports of petroleum oils, both light and heavy.
It will necessarily be some time before the production plant can be sufficiently expanded to cope with the potential demand, but the impetus now given will undoubtedly have far-reaching effects in this direction. It is to be hoped, however, that a fair proportion of the preference, which amounts to 4d. per gallon, will be passed on to the consumer and thus create a brisk • demand for the home-produced fuel.
The guaranteeing of a preference to the fuel, as a whole, instead of subsidizing particular sections amongst the producers, or bolstering up certain proc6sses, is a wise move. The situation is still in a state of flux, and it may well be that the claims made in some cases will prove to be extravagant, so that there will be ample scope for the development and perfection of further processes and plant. The number of oil-producing retorts has expanded considerably during the past year or so, and it required only the energizing influence of such a preference as this to place this new industry on a firm base.
Compared with the price of petrol and excluding taxation, oil fuel is not a cheap fuel, and there is no guarantee that the cost will not rise steeply if the demand be greatly augmented and that for imported petrol reduced.
For this reason alone the home production of oil fuel will be likely to prove beneficial to the consumer, provided that the fuel can be obtained in adequate quantities and of satisfactory quality. It is a mistake to assume that highspeed oil engines can be run on inferior grades of oil without incurring the penalties of excessive smoking, contamination of the lubricant and, consequently, bearing trouble.
It should be mentioned that the decision of the Government is the climax of •a campaign commenced by our associated journal Tho Motor 21 years ago. It has consistently advocated that a fuel produced from home resources was an urgent national necessity . deserving of Government encouragement. The Conbmereial Motor has also closely allied itself with this campaign.