ONE HEARS
21st July 1925
Page 3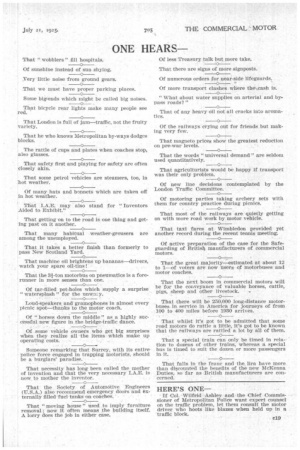 Page 3, 21st July 1925 —
ONE HEARS
Close
That " wobblers " fill hospitals.
Of sunshine instead of sun shying.
Yery little noise frorn ground gears.
That we must have proper parking places.
Some bl-ends which might be called big noises.
That bicycle rear lights make many people see red.
That London is full of jam—traffic, not the fruity variety.
That he who knows Metropolitan by-ways dodges blocks.
The rattle of cups and plates when coaches stop, also glasses.
That safety first and playing for safety are often closely akin.
That some petrol vehicles are steamers, too, in hot weather.
Of many hats and bonnets which are taken off In hot weather.
That I.A.E. may also stand for "Inventors Aided to Exhibit."
That getting on to the road is one thing and geting past on it another.
That many habitual weather-grousers are among the unemployed.
That it takes a better finish than formerly to pass New Scotland Yard.
That machine oil brightens up bananas—drivers, watch your spare oil-tins I That the 3.1-ton motorbus on pneumatics is a forerunner in more senses than one.
Of tar-fdled pot-holes which supply a surprise " watersplash " for the unwazy.
Loud-speakers and gramophones in almost every picnic spot—thanks to the motor coach.
Of "horses down the middle" as a highly successful new figure in the bridge-traffic dance.
Of some vehicle owners who get big surprises when they realize all the items which make up operating costs. = .
• Someone remarking that Surrey, with its entirepolice force engaged in trapping motorists, should be a burglars' paradise.
That necessity has long been called the mother of invention and that the very necessary I.A.E. is now to mother the Inventor.
That the Society of Automotive Engineers (U.S.A.) also recommend emergency doors and txternally filled fuel tanks -on coaches.
That "moving house" used to imply furniture removal ; now it often means the building itself. A lorry does the job in either case. Of less Treasury talk but more take.
That there are signs of more signposts.
Of numerous orders for near-side lifeguards.
Of more transport clasheS where thekca.sh is.
"What about water supplies on arterial and bypass roads?"
That of any heavy oil not all cracks into aromatics.
Of the railways crying out for friends but making very few.
That magneto prices show the greatest reduction on pre-war levels.
That the words "universal demand" are seldom used quantitatively. • That agriculturists would be happy if transport was their only problem.
Of new line decisions contemplated by the London Traffic Committee.
Of motoring parties taking archery sets with them for country practice during picnics.
That most of the railways are quietly getting on with more road work by motor vehicle.
That taxi fares at Wimbledon provided yet another record during the recent tennis meeting.
Of active preparation of the case for the Safeguarding of British manufacturers of commercial motors.
That the great majority—estimated at about 12 to 1—of voters are now users of motorbuses and motor coaches.
That the next boom in commercial motors will be for the conveyance of valuable horses, cattle, pigs, sheep and other livestock.
That there will be 250,000 long-distance motorbuses in service in America for journeys of from 100 to 400 miles before 1930 arrives.
That whilst it's got to be admitted that some road motors do rattle a little, it's got to be known that the railways are rattled a lot by all of them.
That a special train can only be timed in relation to dozens of other trains, whereas a special bus is timed to suit the dozen or more passengers in it.
That falls in the franc and the lira have more than discounted the benefits of the new McKenna Duties, so far as British manufacturers are concerned.