r" POPULARIZING AN AGRICULTURAL SHOW.
21st July 1925
Page 27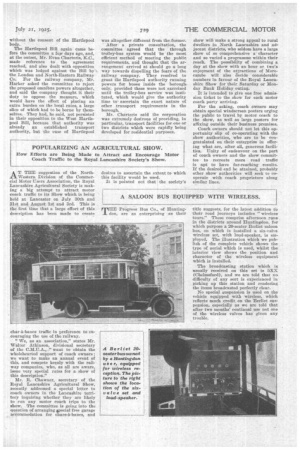 Page 27, 21st July 1925 —
r" POPULARIZING AN AGRICULTURAL SHOW.
Close
How Efforts are Being Made to Attract and Encourage Motor Coach Traffic to the Royal Lancashire Society's Show.
A T TEE suggestion of the North11._Western Division of the Commercial Motor Users Association, the Royal Lancashire Agricultural Society is making a big attempt to attract motor coach traffic to its Show which is being held at Lancaster on July 30th and 31st and August 1st and 3rd. This is the first time that a large effort of this description has been made to create
char-d-bancs traffic in preference to encouraging the use of the railway.
We, as an association," states Mr. Walter Atkinson, divisional secretary of the C.M.TI.A., "want to obtain the wholehearted support of coach owners ; we want to make an annual event of this, and compete keenly with the railway companies, who, as all are aware, issue very special rates for a show of this description."
Mr. It. Chawner, secretary of the Royal Lancashire Agricultural Show, recently addressed a special letter to coach owners in the Lancashire territory inquiring whether they are likely to run any motor coach trips to the show. The committee is going into the question of arranging imecial free garage accommodation for chars-it-banes, and desires to ascertain the extent to which this facility would be used.
It is pointed out that the society's
show will make a strong appeal to rural dwellers in North Lancashire and adjacent districts, who seldom have a large show of so comprehensive a• character and so varied a programme within their reach. The possibility of combining a day at the show with an hour or, two's enjoyment of the attractions of Morecambe will also aecide considerable numbers in favour of the Royal Lancashire Show for their Saturday or Monday Bank Holiday outing.
It is intended to give one free admission ticket to the show for each motor coach party arriving.
For the asking, coach owners may obtain special windscreen posters urging the public to travel by motor coach to the show, as well as large posters for affixing outside their business premises.
Coach owners should not let this opportunity slip of co-operating with the show authorities, who are to be congratulated on their enterprise in offering what are, after all, generous facilities. Unity of endeavour on the part of coach owners and the show committee to recreate more road traffic is apt to have far-reaching results. If the desired end be attained, probably other show authorities will seek to cooperate with coach proprietors along similar lines.