A SALOON BUS EQUIPPED WITH WIRELESS.
21st July 1925
Page 27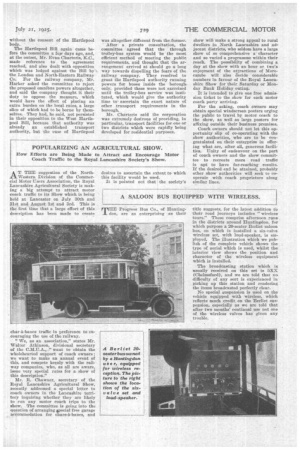 Page 27, 21st July 1925 —
A SALOON BUS EQUIPPED WITH WIRELESS.
Close
ITIHE Prt4re's-s Bus Co., of Huntingdon, are as enterprising as their title suggests, for the latest addition to their road journeys includes "wireless tours." These comprise afternoon runs in the districts around Huntingdon, for which purpose a 20-seater Berliet saloon bus, on which is installed a six-valve wireless set, with loud-speaker, is employed. The illustration which we publish of the complete vehicle shows the type of aerial which is used, whilst the interior view shows the position and character of the wireless equipment which is installed.
The broadcasting station which is usually received on this set is liNK (Chelmsford), and we are told that no difficulty of any sort is experienced in picking up this station and rendering the items broadcasted perfectly clear.
No special suspension is used on the vehicle equipped with wireless, which reflects much credit on the Berliet suspension, especially as we are told that after two months' continual use not one of the wireless valves has given any trouble. _