' , MOTORBUS DEVELOPMENTS IN CHESHIRE.
21st July 1925
Page 26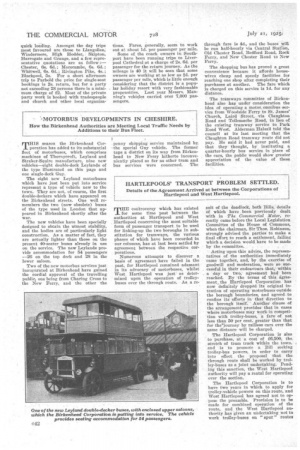 Page 26, 21st July 1925 —
' , MOTORBUS DEVELOPMENTS IN CHESHIRE.
Close
How the Birkenhead Authorities are Meeting Local Traffic Needs by Additions to their Bus Fleet.
THIS season the Birkenhead Corporation has added to its substantial fleet of motorbuses, which comprises machines of Thornycroft, Leyland and Straker-Squire manufacture, nine new vehicles—eight double-deck Leylands of the type illustrated on this page and one single-deck Guy.
The eight new Leyland motorbuses which have just been put into service represent a type of vehicle new to the town. They are not, of course, the first double-deckers which have appeared on the Birkenhead streets. One well remembers the two (now obsolete) buses of the type used in London that appeared in Birkenhead shortly after the war.
The new vehicles have been specially designed to obtain the utmost stability, and the bodies are of particularly light construction. As a matter of fact, they are actually lighter than those on the present 40-seater buses already in use on the service. The new Leylands provide accommodation for 54 passengers —26 on the top deck and 28 in the lower saloon.
Two of the new motorbus services just imuteurated at Birkenhead have gained the cordial approval of the travelling public, one being from Charing Cross to the New Ferry, and the other the
penny shopping service maintained by. --the special Guy vehicle. The former taps a district on its way from Birkenhead to New Ferry hitherto inconveniently placed so far as other tram and bus services were concerned. The
through fare is 4d., and the buses will be. run half-hourly via Central StatiOn, Old Chester Road, Bedford Road, Rock Ferry, and New Chester Road to New Ferry.
The shopping bus has proved a great convenience because it affords housewives cheap and speedy facilities for reaching one shop after completing their purchases at another. The fare which is charged on this service is id. for any distance.
The tramways committee of Birkenhead also has under consideration the idea of operating a motor, omnibus service from Woodside Ferry to St. James' Church, Laird Street, via Claughton Road and Tollemache Road, in lieu of the existing tramway service to Park Road West. Alderman Halsall told the council at its last meeting that the Claughton Road tramway route did not pay. He said it had never paid, and that they thought, by instituting a quarter-hourly bus service in place of the cars, the public would show greater appreciation of the value of these facilities.