PASSENGER TRAVEL NEWS.
21st July 1925
Page 25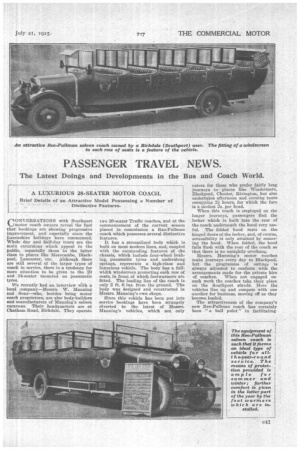 Page 26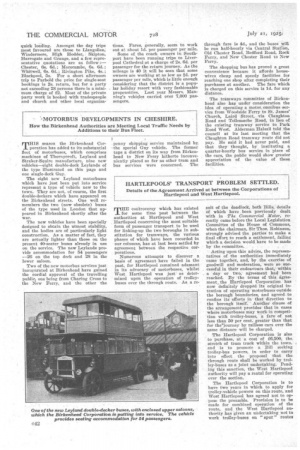 Page 25, 21st July 1925 —
PASSENGER TRAVEL NEWS.
Close
The Latest Doings and Developments in the Bus and Coach World.
• A LUXURIOUS 28-SEATER MOTOR COACH.
Brief Details of an Attractive Model Possessing a Number of Distinctive Features.
CONVERSATIONS with Southport V./motor coach owners reveal the fact that bookings are showing progressive improvement, and especially since the Lancashire holidays have commenced. Whole day and half-day tours are the main excursions which appeal to the public, especially those in the latter class to places like Morecambe, Blackpool, Lancaster, etc. Although there are still several of the larger types of coach in service, there is a tendency for more attention to be given to the 20 and 24-seater mounted on pneumatic tyres.
We recently had an interview with a local company—Messrs. 'W. Manning and Sons—who, besides being motor coach proprietors, are also body-builders and manufacturers of Manning's saloon caravans. Their headquarters are at Chatham Road, Birkdale. They operate two 20-seater Traffic coaches, and at the commencement of the current season placed in commission a Reo-Pullman coach which possesses several distinctive features.
It has a streamlined body which is built on most modern lines, and, coupled with the outstanding features of the chassis, which include four-wheel braking, pneumatic tyres and underslung springs, represents a high-class and luxurious vehicle. The body has a fullwidth windscreen protecting each row of seats, in front of which footwarmers are fitted. The loading line of the coach is only 2 ft. 6 ins, from the ground. The body was designed and constructed in Messrs. Manning's own shops.
Since this vehicle has been put into service bookings have been strangely diverted to the latest of Messrs. Manning's vehicles, which not only eaters for those who prefer fairly long journeys to places like Windermere, Blackpool, Chester, Rivington, but also undertakes afternoon and evening tours occupying 21. hours, for which the fare is a modest 2s. per head.
When this coach is employed on the longer journeys, passengers find the locker which is built into the rear of the coach underneath the hood very useful. The folded hood rests on the hinged doors of the locker, and, of course, accessibility is only attained by removing the hood. When folded, the hood falls flush with the rear of the coach so that there is no unsightly overhang.
Messrs. Manning's motor coaches make journeys every day to Blackpool, but the programme of outings is always adjusted to conform with the arrangements made for the private hire of coaches. When not engaged on such work the coaches take their place on the Southport &fends. Here the vehicles line up and compete with one another for business, moving off as they become loaded.
The attractiveness of the company's new Reo-Pullnian coach has certainly been " a bull point in facilitating quick loading. Amongst the day trips most favoured are those to Llangollen, Windermere, High Hodder, Skipton, Harrogate and Grange, and a few representative quotations are as follow:— Chester, 6s. 6d.; Morecambe, 6s. 6d.; Whitwe11, 6s. 6d.; Itivington Pike, 4s. ; Blackpool, 5s. For a short afternoon trip to Parbold the price for single-seat bookings is 2s. return, but for a party not exceeding 28 persons there is a minimum charge of £2. Most of the private party work is booked with tradespeople and church and other local organize lions. Fares, generally, seem to work out at about id. per passenger per mile.
Some of the coach owners in Southport have been running trips to Liverpool Cathedral at a charge of 2s. 6d. per passenger for the return journey. As the mileage is 40 it will be seen that some owners are working at as low as id. per passenger per mile, which is little enough considering that the district is a popular holiday resort with very fashionable propensities. Last year Messrs. Manning's vehicles carried over 7,000 passengers.