GERMAN EYES ( ■ T BELGIUM
21st January 1955
Page 46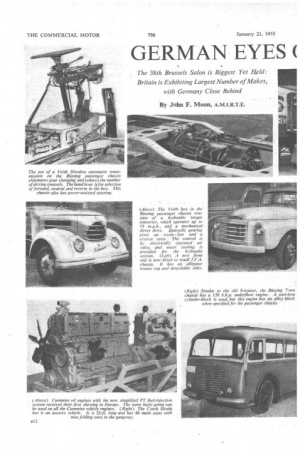 Page 47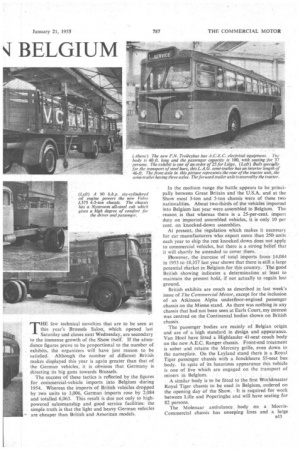 Page 48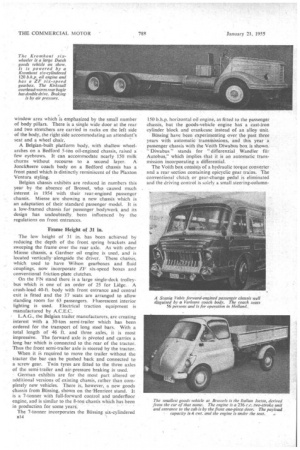 Page 49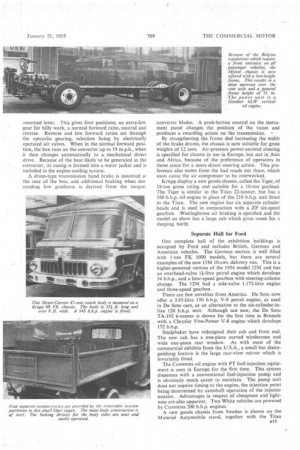 Page 50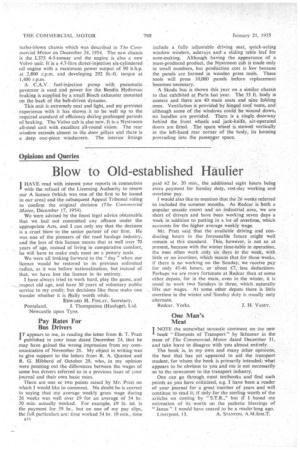 Page 46, 21st January 1955 —
GERMAN EYES ( ■ T BELGIUM
Close
HE few technical novelties that are to be seen at this year's Brussels Salon, which opened last Saturday and closes next Wednesday, are secondary to the immense growth of the Show itself: If the attendance figures prove to be proportional to the number of exhibits, the organizers will have just reason to be satisfied. Although the number of different British makes displayed this year is again greater than that of the German vehicles, it is obvious that Germany is directing its big guns towards Brussels.
The success of these tactics is reflected by the figures for commercial-vehicle imports into Belgium during 1954. Whereas the imports of British vehicles dropped by two units to 3,006, German imports rose by 2,084 and totalled 6,063. This result is due not only to highpowered salesmanship and good service facilities: the simple truth is that the light and heavy German vehicles are cheaper than British and American. models. In the medium range the battle appears to be principally between Great Britain and the U.S.A. and at the Show most 3-ton and 5-ton chassis were of these two nationalities. About two-thirds of the Vehicles imported into Belgium last year were assembled in Belgium. The reason_ is that whereas there is a 25-per-cent. import duty on imported assembled vehicles, it is only 10 per cent. on knocked-down assemblies.
At present, the regulation which makes it necessary for car -manufacturers who export more than 250units each year to ship the rest knockeddown does not apply to commercial vehicles, but there is a strong belief that it will shortly be amended to cover them.
However, the increase of total imports from .14,084 in 1953 to 18,357 last year shows that there is still a large potential Market in Belgium for this country. The good British showing indicates a determination at least to maintain the present hold, if not actually to regain lost ground.
British exhibits are much as described in last week's issue of The Commercial Motor, except for the inclusion of an Atkinson Alpha underfloor-engirted passenger chassis on the Miesse stand. As there was nothing in any chassis that had not been seen at Earls Court, my interest was centred on the Continental bodies shown on British
chassis.
The passenger bodies are mainly of Belgian origin and are of a -high standard in design and appearance. Van Hool have fitted a Highlander 41-seat coach body on the new A.E.C. Ranger chassis. Front-end treatment is sober and retains the Mercury grille, even down to the nameplate. On the Leyland stand there is a Royal Tiger passenger chassis with a Jonckheere 55-seat bus body. In spite of its luxurious appearance this vehicle is one of five which are engaged on the transport of
miners in Belgium. . .
A similar body is to be fitted to the first WOrldmaster Royal Tiger chassis to be used in Belgium, .ordered on the opening day of the Show. It is required for work between Lille and Poperinghe and will have seating for 82 persons.
The Molenaar ambulance, body on a MorrisCommercial chassis has sweeping lines and a large n I 3 window area which is emphasized by the small number of body pillars. There is a single wide door at the rear and two stretchers are carried in racks on the left side of the body, the right side accommodating an attendant's seat and a wheel chair.
A Belgian-built platform body, with shallow wheelarches on a Bedford 5-ton oil-engined chassis, raised a few eyebrows. It can accommodate nearly 150 milk churns without recourse to a second layer. A Jonckheere coach body on a Bedford chassis has a front panel which is distinctly reminiscent of the Plaxton Ventura styling.
Belgian chassis exhibits are reduced in numbers this year by the absence of Brossel, who caused much interest in 1954 with their rear-engined passenger chassis. Miesse are showing a new chassis which is an adaptation of their standard passenger model. It is a low-framed chassis for passenger bodywork and its design has undoubtedly, been influenced by the regulations on front entrances.
Frame Height of 31 in.
The low height of 31 in. has been achieved by reducing the depth of the front spring brackets and sweeping the frame over the rear axle. As with other Miesse chassis, a Gardner oil engine is used, and is located vertically alongside the driver. These chassis, which used to have Wilson gearboxes and fluid couplings, now incorporate ZF six-speed boxes and conventional friction-plate clutches.
On the FN stand there is a large single-deck trolleybus which is one of an order of 25 for Liege. A crush-load 40-ft. body with front entrance and central exit is fitted and the 37 seats are arranged to allow standing room for 63 passengers. Fluorescent interior lighting is used. Electrical traction equipment is manufactured by A.C.E.C.
L.A.G., the Belgian trailer manufacturers, are creating Interest with a 30-ton semi-trailer which has been ordered for the transport of tong steel bars. With a total length of 46 ft. and three axles, it is most impressive. The forward axle is pivoted and carries a long bar which is connected to the rear of the tractor. Thus the front semi-trailer axle is steered by the tractor.
When it is required to move the trailer without the tractor the bar can be pushed back and connected to a screw gear. Twin tyres are fitted to the three axles of the semi-trailer and air-pressure braking isused.
German exhibits are for the most part altered or additional versions of existing chassis, rather than completely new vehicles. There is, however, a new goods chassis from Bussing, shown on the 'Henricot stand. It is a 7-tonner with full-forward control and underfloor engine, and is similar to the 8-ton chassis which has been in production for some years. • The 7-tonner incorporates the Bussing six-cylindered B14 150 b.h.p. horizontal oil engine, as fitted to the passenger chassis, but the goods-vehicle engine has a cast-iron cylinder block and crankcase instead of an alloy unit.
Bussing have been experimenting over the past three years with automatic transmissions, and this year a passenger chassis with the Voith Diwabus box is shown. " Diwabus " stands for "differential Wandler fOr Autobus," which implies that it is an automatic transmission incorporating a differential.
The Voith box consists of a hydraulic torque converter and a rear section containing epicyclic gear trains. The conventional clutch or gear-change pedal is eliminated and the driving control is solely a small steering-column mounted lever. This gives four positions; an extra-low gear for hilly work, a normal forward ratio, neutral and reverse. Reverse and low forward ratios act through the epicyclic gearing, selection being by electrically operated air valves. When in the normal forward position, the box runs on the converter up to 19 m.p.h., when it then changes automatically to a mechanical direct drive. Because of the heat likely to be generated in the converter, its casing is formed into a water jacket and is included in the engine cooling system.
A drum-type transmission hand brake is mounted at the rear of the box, and additional braking when descending low gradients is derived from the torque. converter blades. A push-button control on the instrument panel changes the position of the vanes and produces a retarding action on the transmission.
By strengthening the frame a'nd increasing the width of the brake drums, the chassis is now suitable for gross weights of 12 tons. Air-pressure power-assisted steering is specified for chassis in use in. Europe, but not in Asia and Africa, because of the preference of operators in those areas for a more direct steering action. This preference also stems from the bad roads out there, which soon cause the air compressor to be overworked.
Krupp display a new goods chassis, called the Tiger, of 19-ton gross rating and suitable for a 10-ton payload. The Tiger is similar to the Titan 22-tanner, but has a 180 b.h.p. oil engine in place of the 210 b.h.p. unit fitted to the Titan. The new engine has six separate cylinder heads and is used in conjunction with a ZF six-speed gearbox. Westinghouse air braking is specified and the model on show has a large cab which gives room for a sleeping berth.
Separate Hall for Ford
One complete hall of the exhibition buildings is occupied by Ford and includes British, German and American vehicles. The German section is well filled with 1-ton FK 1000 models, but there are several examples of the new 15M 10-cwt. delivery van. This is a higher-powered version of the 1954 model 12M and has an overhead-valve 1i-litre petrol engine which develops 34 b.h.p., and a four-speed gearbox with steering-column change. The 12M had a side-valve 1.172-litre engine and three-speed gearbox.
There are few novelties from America. De Soto now offer a 3.95-litre 150 b.h.p. V-8 petrol engine, as used in De Soto cars, as an alternative to the six-cylinder-inline 120 b.h.p. unit. Although not new, the De Soto TA-192 6-tanner is shown for the first time in Brussels with a Chrysler Five-Power V-8 engine which develops 172 b.h.p.
Stud,ebaker have redesigned their cab and front end. The new cab has a one-piece curved windscreen and wide one-piece rear window. As with most of the commercial exhibits from the U.S.A., a small but distinguishing feature is the large rear-view mirror which is invariably fitted.
The Cummins oil engine with PT fuel-injection equipment is seen in Europe for the first time. This system dispenses with a conventional fuel-injection pump and is obviously much easier to maintain. The pump unit does not require timing to the engine, the injection point being determined by camshaft operation of the injector nozzles. Advantages in respect of cheapness and lightness are' also apparent. Two White vehicles are powered by Cummins 200 b.h.p. engines. A new goods chassis from Sweden is shown on the Materiel Automobile stand, together with the Titan n15
turbo-blown chassis which was described in The Commercial Motor on December 24, 1954. The new chassis is the L375 4-5-tonner and the engine is also a new Volvo unit. It is a 4.7-litre direct-injection six-cylindered oil engine with a maximum power output of 90 b.h.p. at 2,800 r.p.m. and developing 202 lb.-ft. torque at 1,400 r.p.m.
A C.A.V. fuel-injection pump with pneumatic governor is used and power for the Bendix Hydrovac braking is supplied by a small Bosch exhauster mounted on the back of the belt-driVen dynamo.
This unit is extremely neat and light, and my previous experience with it has shown it to• be. well up to the required standard of efficiency during prolonged periods of braking. The Volvo cab is also new. It is a Nystroorn all-steel unit with excellent all-round vision. The rear window extends almost to the door pillars and there is a deep one-piece windscreen. The interior fittings
include a fully adjustable driving seat, quick-acting window winders, ashtrays and\ a sliding table leaf for note-making. Although having the appearance of a mass-produced product, the Nystroorn cab is made only in small numbers, but production cost is low because the panels are formed in wooden press tools. These tools will press 10,000 panels before replacement becomes necessary.
A Skoda bus is shown this year on a similar chassis to that exhibited at Paris last year. The 33 ft. body is austere arid there are 40 main seats and nine folding ones. Ventilation is provided by hinged roof vents, and although some of the windows could be wound down, no handles are provided. There is a single doorway behind the front wheels and jack-knife, air-operated doors are fitted. The spare wheel is stowed vertically in the left-hand rear corner of the body, its housing protruding into the passecger space.