Picking Up the Threads in Haulage
21st January 1955
Page 43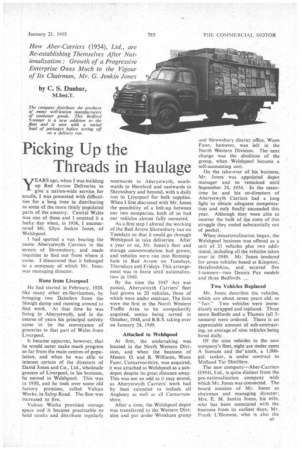 Page 44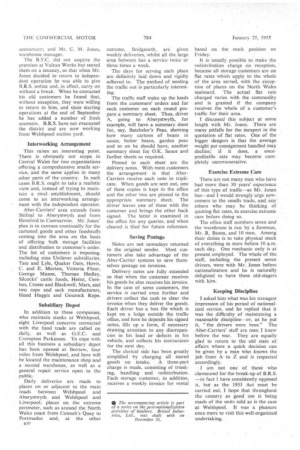 Page 43, 21st January 1955 —
Picking Up the Threads in Haulage
Close
yEARS ago, when I was building up Red Arrow Deliveries to give a nation-wide service for smalls, I was presented with difficulties for a long time in distributing to some of the more thinly populated parts of the country. Central Wales was one of these and I counted it a lucky day when, in 1936, I encountered Mr. Glyn Jenkin Jones, of Welshpool.
I had spotted a van bearing the name Aberystwyth Carriers in the streets of Shrewsbury, and made inquiries to find out from where it came. I discovered that it belonged to a company of which Mr. Jones was managing director.
Runs from Liverpool
He had started in February, 1920, like many other ex-Servicemen, by bringing two Daimlers from the Slough dump and running around to find work. At that time he was living in Aberystwyth, and in the course of years his principal activity came to be the conveyance of groceries to that part of Wales from Liverpool.
It became apparent, however, that he would never make much progress so far from the main centres of population, and when he was able to interest certain of the directors of David Jones and Co., Ltd., wholesale grocers of Liverpool, in his business, he moved to Welshpool. This was in 1930, and he took over some old factory premises, called Vulcan Works, in Salop Road. The fleet was increased to five.
Vulcan Works provided storage space and it became practicable to bold stocks and distribute regularly westwards to Aberystwyth, southwards to Hereford and eastwards to Shrewsbury and beyond, with a daily run to Liverpool for bulk supplies. When I first discussed with Mr. Jones the possibility of a link-up between our two companies, both of us had our vehicles almost fully occupied.
As a first step I altered the working of the Red Arrow Shrewsbury van on Tuesdays so that it could go through Welshpool to take deliveries. After a year or so, Mr. Jones's fleet and storage accommodation had grown, and vehicles were run into Birmingham to Red Arrow on Tuesdays, Thursdays and Fridays. This arrangement was in force until nationalization in 1949.
By the time the 1947 Act was passed, Aberystwyth Carriers' fleet had grown to 20 vehicles, three of which were under contract. The firm were the first in the North Western Traffic Area to be compulsorily acquired, notice being served in October, 1948, and B.R.S. taking over on January 24, 1949.
Attached to Welshpool
At firSt, the undertaking was located in the North Western Division, and when the business of Messrs. 0. and R. Williams, Waen Fa,wr, Carnarvonshire, was acquired, it was attached to Welshpool as a subdepot despite its great distance away. This was not so odd as it may sound, as Aberystwyth Carriers' work had by then extended to include all Anglesey as well as all Carnarvonshire.
After a time, the Welshpool depot was transferred to the Western Division and put under Wrexham group and Shrewsbury district office. Waco Fawr, however, was left in the North Western Division. The next change was the abolition of the group, when Welshpool became a self-accounting unit.
On the take-over of his business, Mr. Jones was appointed depot manager and so remained until September 24, 1954. In the meantime he and his co-directors of Aberystwyth Carriers had a long fight to obtain adequate compensation and only finally succeeded this year. Although they were able to recover the bulk of the costs of this struggle they ended substantially out of pocket.
When denationalization began, the Welshpool business was offered as a unit of 21 vehicles plus two additional, including all the vehicles taken over in 1949. Mr. Jones tendered for seven vehicles based at Kingston, Herefordshire, and secured five 5-tonners—two Dennis Pax models and three Bedfords. - Two Vehicles Replaced
Mr. Jones describes the vehicles, which are about seven years old, as "fair." Two vehicles were immediately scrapped andreplaced. Three more Bedfords and a Thames (all 5tonners) were ordered. There is an appreciable amount of sub-contracting, an average of nine vehicles being hired daily.
Of the nine vehicles in the new company's fleet, eight are under open A licences and the ninth, a 1,000gal. tanker, is under contract to Midland Tar Distillers.
The new company—Aber-Carriers (1954), Ltd., is quite distinct from the pre-nationalization company with which Mr. Jones was connected. The board consists of Mr. Jones as chairman and managing director; Mrs. E. M. Jenkin Jones, his wife, who has been associated with the business from its earliest days; Mr. Frank L'Homme, who is also the
accountant; and Mr. C. M. Jones, warehouse manager.
The B.T.C. did not acquire the premises at Vulcan Works but rented them on a tenancy, so that when Mr. Jones decided to return to independent operation he was able to give B.R.S. notice and, in effect, carry on without a break. When he contacted his old customers he found that, without exception, they were willing to return to him, and since starting operations at the end of September he has added a number of fresh accounts. B.R.S. have not evacuated the district and are now working from Welshpool station yard.
Interworking Arrangement This raises an interesting point. There is. obviously not scope . in Central Wales for two organizations offering a comprehensive smalls service,and the same applies in many other parts of the country. In such cases B.R.S. ought to take a realistic view. and, instead of trying to maintain a rival establishment, should come to an interworking arrangement with the independent operator.
Aber-Carriers' area extends from Shifnal to Aberystwyth and from Hereford to Caernarvon. Mr. Jones' plan is to canvass continually for the cartoned goods and other foodstuffs coming into the area on the basis of offering bulk storage facilities and distribution to customer's order. The list of customers is imposing, including nine Unilever subsidiaries, Tate and Lyle, Quaker Oats, Hovis, C. and E Morton, Victoria Flour, George Mason, Thomas Hedley, Silcocks' cattle foods, Heinz, Cerebos, Crosse and Blackwell, Mars, and two rope and sack manufacturers, Hood Haggie and Gourock Rope.
Subsidiary Depot
In addition to these companies, who maintain stocks at Welshpool, eight Liverpool concerns connected with the food trade are called on daily, as well as G.E.C. and Crompton Parkinson. To cope with all this business a subsidiary depot has been opened at Berriew, four miles from Welshpool, and here will be located the maintenanceshop and a second warehouse, as well as a general repair service open to the public.
Daily deliveries are made to places on or adjacent to the main roads between Welshpool and Aberystwyth and Welshpool and Liverpool; places on the extreme perimeter, such as around the North Wales coast from Connah's Quay to Portmadoc and, at the other extreme, Bridgnorth, arc given weekly deliveries, whilst all the large area between has a service twice or three times a week.
The days for serving each place are definitely laid down and rigidly adhered to. The method of sending the traffic out is particularly interesting.
The traffic staff make up the loads from the customers' orders and for each customer on each round prepare a summary sheet. Thus, driver A, going to Aberystwyth, for example, will have a summary. sheet for, say, Batchelor's Peas, showing how many cartons of beans in sauce, butter beans, garden peas and so on he should have, another summary sheet for O.K. Sauce and further sheets as required.
Pinned to each sheet are the delivery notes. With most customers the arrangement is that AberCarriers receive each note in triplicate. When goods are sent out, one of these copies is kept in the office and the other two are pinned to the appropriate summary sheet. The driver leaves one of these with the customer and brings the other back signed. The latter is examined in the office for any queries, and when cleared is filed for future reference.
Saving Postage
Notes are not nowadays returned to the original sender. Most customers also take advantage of the Aber-Carrier systems to save themselves postage on invoices.
Delivery notes are fully extended so that when the customer receives his goods he also receives his invoice. In the case of some customers, the service is carried even further and drivers collect the cash to clear the invoice when they. deliver the goods. Each driver has a box file which is kept on a ledge outside the traffic office, and here he deposits his signed notes, fills up a form, if necessary drawing attention to any discrepancies in his load or defects in his vehicle, and collects his instructions for the next day.
The clerical side has been greatly simplified by charging all stored goods on intake. A three-part charge is made, consisting of trunking, handling and redistribution. Each storage customer, in addition, receives a weekly invoice for rental based on the stock position on Friday.
It is usually possible to make the redistribution charge on reception, because all storage customers are on flat rates which apply to the whole of the area served, with the exception of places on the North Wales seaboard. The actual flat rate charged varies with the commodity and is granted if the company receives the whole of a customer's traffic for their area.
I discussed this subject at some length with Mr. Jones. There are many pitfalls for the inexpert in the quotation of flat rates. One of the bigger dangers is that the average weight per consignment handled may decline; if it does, a onceprofitable rate may become completely unrernunerative.
Exercise Extreme Cure
There are not many men who have had more than 30 years' experience of this type of traffic—as Mr. Jones has—and I would strongly urge newcomers to the smalls trade, and any others who may be thinking of quoting flat rates, to exercise extreme care before doing so.
The office staff numbers seven and the warehouse is run by a foreman, Mr. R. Bason, and 10 men. Among their duties is to take physical stock of everything in store before 10 a.m. each day. One mechanic only is at present employed. The whole of the staff, including the present seven drivers, were with Mr. Jones before nationalization and he is naturally delighted to have these old-stagers with him.
Keeping Discipline I asked him what was his strongest impression of his period of nationalized service, and he replied that it was the difficulty of maintaining a reasonable discipline—or, as he put it, "the drivers were boss."7 The Aber-Carriers' staff are men I knew before the war. They are equally glad to return to the .old state of affairs where a. quick decision can be given by a man who knows the job from A' to 2 and is respected accordingly.
I am not one of those who clamoured for the break-up of B.R.S. —in fact I have consistently opposed it, but as the 1953 Act must be carried out, I hope that throughout the country as good use is being made of the units sold as is the case at Welshpool. It was a pleasure once more to visit this well-organized undertaking.