Workers' Concession
21st January 1955
Page 38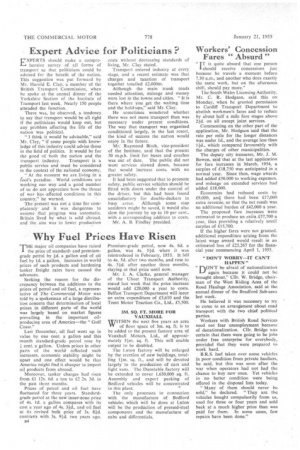 Page 38, 21st January 1955 —
Workers' Concession
Close
Fares "Absurd" " IT is quite absurd that one person
should receive concessions just because he travels a moment before 7.30 a.m., and another who does exactly the same work, hut on the afternoon shift, should pay more."
The South Wales Licensing Authority. Mr. C. R. Hodgson, said this on Monday, when he granted permission to Cardiff Transport Department to abolish workmen's fares and to reduce by about half a mile fare stages above 2fd. on all except joint services.
Commenting on the other part of the application, Mr. Hodgson said that the rate per mile for the longer distances was under Id., and the average less than lid., which compared favourably with the charges of other municipalities.
The deputy city treasurer, Mr. I. M. Bowen, said that at the last application for fare increases in March, 1954, a surplus of £18,750 was anticipated in a normal year. Since then, wage awards had added £50,000 to working expenses, and mileage on extended services had added £18,000.
Economies had reduced costs by £9,000, anci there had been £17,000 extra revenue, so that the net result was an additional burden of £42,000 a year.
The proposed fare increases were estimated to produce an extra £57,700 a year, thus providing a relatively small surplus of £15,700.
If the higher fares were not granted. additional expenditure arising from the latest wage award would result in an estimated loss of £23,267 for the financial year commencing April 1, 1955.
" DON'T WORRY—IT CAN'T HAPPEN" " riONT be afraid of nationalization
.1--1 again because it could not be brought about," Cllr. W. Bridge, -chairman of the West Riding Area of the Road Haulage Association, said at the annual dinner of the Bradford Sub-area last week.
He believed it was necessary to try to come to an arrangement about road transport with the two chief political parties.
Workers with British Road Services need not fear unemployment because of denationalization. Car. Bridge was certain that there were going to be jobs under free enterprise for everybody, provided that they were prepared to work hard.
B.R.S. had taken over some vehicles in poor condition from private hauliers, he said, but this was soon after the war when operators had not had the chance to buy new ones. Yet vehicles in no better condition were being offered in the disposal lists today.
"Many of them should never be sold," he declared. "They are the vehicles bought compulsorily from us, used for three or four years and sold back at a much higher price than was paid for them. In some cases, few repairs have been done."