Expert Advice for Politicians ?
21st January 1955
Page 38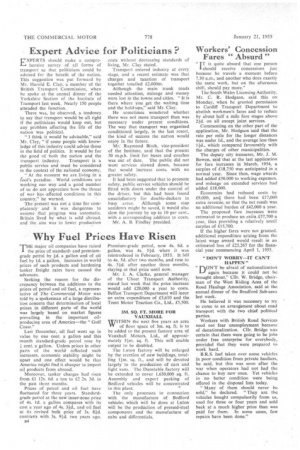 Page 38, 21st January 1955 —
Expert Advice for Politicians ?
Close
XPERTS should make a comprehensive survey of all forms of transport so that politicians could be advised for the benefit of the nation. This suggestion was put forward by Mr. Harold E. Clay, a member of the British Transport Commission, when he spoke at the annual dinner of the Yorkshire Section of the Institute of Transport last week. Nearly 150 people attended the function.
There was, he observed, a tendency to say that transport would be all right if the politicians would keep out, but any problem affecting the life of the nation was political.
"I think it would be advisable," said Mr. Clay, "if some people with knowledge of this industry could advise those in the field of politics. It would be for the good of both the nation and the
transport industry. Transport is a public service and most be considered in the context of the national economy.
" At the moment we are living in a fool's paradise. World conditions are working our way and a good number of us do not appreciate how the threat of war has .affected conditions in this country," he Warned.
The-present was not a time for complacency and it was dangerous to assume that progress was automatic. Britain lived by what is sold abroad, and the aim was to lower production costs without decreasing standards of living, Mr. Clay stated.
Transport entered industry at every stage, and a recent estimate was that charges and taxation of transport together totalled £2,000m.
Although the main trunk roads needed attention, mileage and money were lost in the towns and cities. "It is there where you get the waiting time and the hold-ups," said Mr. Clay.
He sometimes wondered whether there was not more transport than was necessary under present conditions. The way that transport was organized conditioned largely, in the last resort, the kind of success the nation would enjoy in the future.
Mr. Raymond Birch, vice-president of the Institute, said that the present 30 m.p.h. limit for buses and coaches was out of date. The public did not want services slowed down, because that would increase costs, with no greater safety.
• It had been suggested that to promote safety, public service vehicles should be fitted with doors under the control of the driver, but this had been found unsatisfactory for double-deckers in busy areas. Although some step accidents might be saved, it would also slow the journey by up to 10 per cent., with a corresponding addition to costs.
Mr. A. B. Findlay presided.