End of State Buses : M.P.''s Plan
21st January 1955
Page 37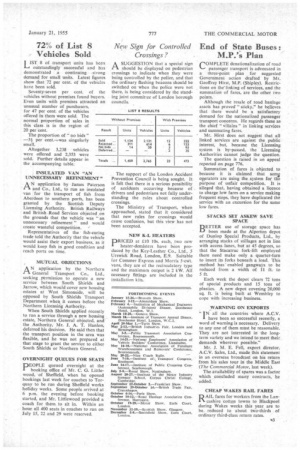 Page 37, 21st January 1955 —
End of State Buses : M.P.''s Plan
Close
Keywords :
COMPLETE denationalization of road passenger transport is advocated in a three-point plan for suggested Government action drafted by Mr. Geoffrey Hirst, M.P. (Shipley). Restrictions on the' linking of services, and the summation of fares, are the other two points.
Although the resale of road haulage assets has proved' " sticky," he believes that there would be a satisfactory demand for the nationalized passenger transport concerns. He regards these as the chief "villains" in linking services and summating fares.
Mr. Hirst does not suggest that all linked services are against the public interest, but, because the Licensing system is by-passed, the Licensing Authorities cannot judge the question. The question is raised in an appeal reported on page 776.
Summation of fares is objected to because it is claimed that somi orators are using the system for the purpose of unfair competition. It is alleged that, having obtained a licence to charge low fares on a service making frequent stops, they have duplicated the service with an excursion for the same low fares.
STACKS SET ASKEW SAVE SPACE
BETTER use of storage space has been made at the Alperton depot of Dunlop Special Products, Ltd., by arranging stacks of stillages not in line with access lanes, but at 45 degrees, so that the Stacatruc fork-lift employed there need make only a quarter-turn to insert its forks beneath a load. This method has' enabled gangways to be reduced from a width of 11 ft. to 5 ft.
Each week the depot clears 72 tons of special products and 15 tons of plastics. A new depot covering 20,000 sq. ft. is being built at Wembley to cope with increasing business.
WARNING ON EXPORTS "
IN all the countries where A.C.V. I have been so successful recently, a word of warning is necessary. Delivery to any one of them must be reasonable. They are not interested in the longterm variety and we intend to meet their demands wherever possible."
Mr. J. M. E. Fell, export director, A.C.V. Sales, Ltd., made this statement in an overseas broadcast on his return from his sales tour in the Middle East (The Commercial Motor, last week).
The availability of spares was a factor which concluded many contracts, he added.
CHEAP WAKES RAIL FARES
D AIL fares for workers from the Lan
cashire cotton towns to Blackpool during Wakes weeks this year are to be reduced to about two-thirds of ordinary third-class return rates.