South Wales Transport Shortage : First of 19 Appeals
21st January 1955
Page 35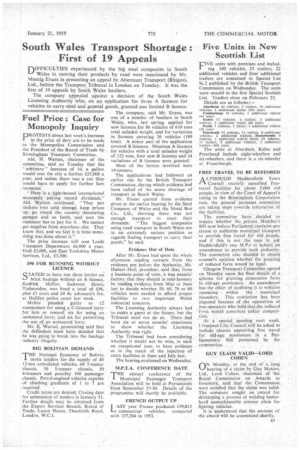 Page 35, 21st January 1955 —
South Wales Transport Shortage : First of 19 Appeals
Close
nIFFICULTIES experienced by the big steel companies in South Wales in moving their products by road were mentioned by Mr. Meurig Evans in presenting an appeal by Aberrnant Transport (Rhigos), Ltd., before the Transport Tribunal in London on Tuesday. It was the first of 19 appeals by South Wales hauliers.
The company appealed against a decision of the South Wales Licensing Authority who, on an application for three A licences for vehicles to carry steel and general goods, granted one limited B licence, The company, said Mr. Evans, was
Fuel Price : Case for Monopoly Inquiry
PROTESTS about last week's increase in the price of dery are to be made to the Monopolies Commission and the President of the Board of Trade by Birmingham Transport Committee.
Aid. H. Walton, chairman of the committee, said on Tuesday that the "arbitrary" increase of Id. a gallon would cost the city a further E25,000 a year, and unless there was a cut they would have to apply for further fare increases.
"Here is a tight-bound international monopoly paying record dividends," Aid. Watton continued. " They put tankers into cold storage, keep prices up, go round the country decorating garages and so forth, and now the customer has to pay for it, We cannot get supplies from anywhere else. They know that, and we feel it is time some
thing was done about it." • The price increase will cost Leeds Transport Department £6,000 a year, Hull £2,000, and East Yorkshire Motor Services, Ltd., £3,500.
£96 FOR RUNNING WITHOUT LICENCE
QTATED to have run three lorries on brick haulage Without an A licence, Kedrick Mellor, Jackman Street, Todmorden, was fined a total of £96, plus £1 costs and £4 4s. advocate's fee, at Halifax police court last week. Mellor pleaded guilty to 12 summonses for using a C-licensed lorry for hire or reward,' six for using an uninsured lorry, and six for permitting the use of an uninsured lorry.
Mr. E. Wurzal, prosecuting said that the defendant must have decided that he was going to break into the haulage industry illegally.
BIG BOLIVIAN DEMAND
THE National Economy of Bolivia
invite tenders for the supply of 40 $2-ton articulated vehicles, 60 7-tonner chassis, 50 5-tonner chassis, 50 4-tonners and possibly 100 passenger chassis. Petrol-engined vehicles capable of climbing gradients of 1 in 7 are • required.
Credit terms are desired. Closing date • for submission of tenders is January 31. Further details may be obtained from the Export Services Branch, Board of Trade, Lacon House, Theobalds Road, London, W.C.I. one of a number of hauliers in South Wales. who, last spring, applied for new licences for 86 vehicles of 610 tons total unladen weight, and for variations in licences covering 26 vehicles (189 tons). A minor part of the application covered B licences. Nineteen A licences for vehicles with a total unladen weight of 122 tons, four new .8 licences and 14 variations of B licences were granted.
Most of the lorries involved were 14-tonners.
The applications had followed an earlier one by the British Transport Commission, during which evidence had been called of the acute shortage of transport , in South Wales. Mr. Evans quoted from evidence given at the earlier hearing by the Steel Company of Wales and the Metal Box Co., Ltd., showing there was not enough transport to meet their demands. "The biggest companies • using road transport in South Wales are in an .extremely serious position as regards finding transport to carry their goods," he said.
Evidence Out of Date
After Mr. Evans had spent the whole afternoon reading extracts from the evidence put before the Authority, Mr. Hubert Hull,.president, said that, from a business point of view, it was unsatis: factory that they should in mid-January be reading evidence from May or June last to decide whether 50, 60, 70 or 80 vehicles were needed to afford proper facilities to two important Welsh industrial concerns.
The Licensing Authority always had to make a guess at the future, but the Tribunal need not do so. There had been six or seven months' experience
• to show whether the Licensing Authority was right.
The Tribunal had been considering whether it would not be wise, in such an exceptional case, to have evidence •, as to the result of the injection of extra facilities in June and July last, The hearing continued on Wednesday.
M.P.T.A. CONFERENCE DATE
TEH annual conference of the Municipal Passenger Transport Association will be held at Portsmouth from September 27-30. Details of the programme will shortly be available.
FRENCH OUTPUT UP
I AST year France Produced 159,815 commercial vehicles, compared with 127,204 in 1953.