Terberg DTS (UK) launches forklift range for the UK market
21st february 2013
Page 8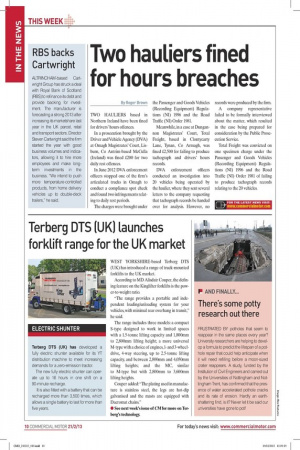 Page 8, 21st february 2013 —
Terberg DTS (UK) launches forklift range for the UK market
Close
WEST YORKSHIRE-based Terberg DTS (UK) has introduced a range of truck-mounted forklifts to the UK market.
According to MD Alisdair Couper, the defining feature on the Kinglifter forklifts is the power-to-weight ratio.
"The range provides a portable and independent loading/unloading system for your vehicles, with minimal rear overhang in transit," he said.
The range includes three models: a compact S-type designed to work in limited spaces with a 1.5-tonne lifting capacity and 1,800mm to 2,800mm lifting height; a more universal M-type with a choice of engines,1and 3-wheeldrive, 4-way steering, up to 2.5-tonne lifting capacity, and between 2,800mm and 4,050mm lifting heights; and the MC, similar to M-type but with 2,800mm to 3,600mm lifting heights.
Couper added: "The plating used in manufacture is stainless steel, the legs are hot-dip galvanised and the masts are equipped with Dacromat chains."
• See next week's issue of CM for more on Terberg's technology.