TfL slates office sharing
21st february 2013
Page 7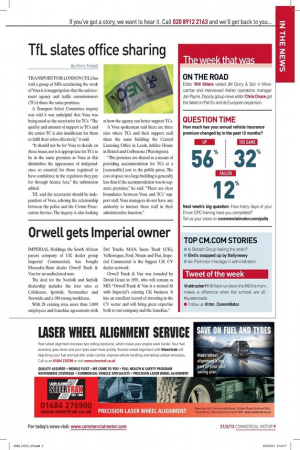 Page 7, 21st february 2013 —
TfL slates office sharing
Close
By Chris Tindall TRANSPORT FOR LONDON (TfL) has told a group of MPs scrutinising the work of Vosa it is inappropriate that the enforcement agency and traffic commissioners (TCs) share the same premises.
A Transport Select Committee inquiry was told it was unhelpful that Vosa was being used as the secretariat for TCs. "The quality and amount of support to TCs and the senior TC is also insufficient for them to fulfil their roles effectively," it said.
"It should not be for Vosa to decide on these issues, nor is it appropriate for TCs to be in the same premises as Vosa as this diminishes the appearance of independence so essential for those regulated to have confidence in the regulators they pay for through licence fees," the submission added.
TfL said the secretariat should be independent of Vosa, echoing the relationship between the police and the Crown Prosecution Service. The inquiry is also looking at how the agency can better support TCs.
A Vosa spokesman said there are three sites where TCs and their support staff share the same building: the Central Licensing Office in Leeds, Jubilee House in Bristol and Golboume (Warrington).
"The premises are shared as a means of providing accommodation for TCs at a [reasonable] cost to the public purse. The cost of space in a large building is generally less than if the accommodation was in separate premises," he said. "There are clear boundaries between Vosa and TCs' support staff. Vosa managers do not have any authority to instruct these staff in their administrative function."