No vignette stickers for road user charge
21st february 2013
Page 6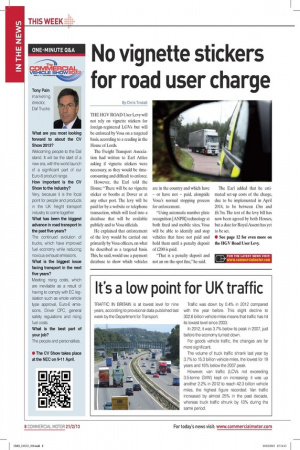 Page 6, 21st february 2013 —
No vignette stickers for road user charge
Close
By Chris Tindall THE HGV ROAD User Levy will not rely on vignette stickers for foreign-registered LGVs but will be enforced by Vosa on a targeted basis, according to a reading in the House of Lords.
The Freight Transport Association had written to Earl Attlee asking if vignette stickers were necessary, as they would be timeconsuming and difficult to enforce.
However, the Earl told the House: "There will be no vignette sticker or booths at Dover or at any other port. The levy will be paid for by a website or telephone transaction, which will feed into a database that will be available publicly and to Vosa officials.
He explained that enforcement of the levy would be carried out primarily by Vosa officers, on what he described as a targeted basis. This, he said, would use a payment database to show which vehicles are in the country and which have — or have not — paid, alongside Vosa's normal stopping process for enforcement.
"Using automatic number plate recognition [ANPR] technology at both fixed and mobile sites, Vosa will be able to identify and stop vehicles that have not paid and hold them until a penalty deposit of £200 is paid.
"That is a penalty deposit and not an on-the-spot fine," he said.
The Earl added that he estimated set-up costs of the charge, due to be implemented in April 2014, to be between £3m and £6.7m. The text of the levy bill has now been agreed by both Houses, but a date for Royal Assent has yet to be set.
• See page 12 for even more on the HGV Road User Levy.