Industry surprised as driver struggles for work
21st february 2013
Page 4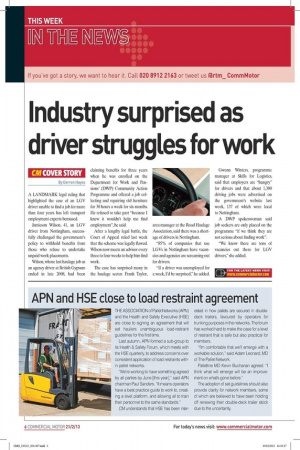 Page 4, 21st february 2013 —
Industry surprised as driver struggles for work
Close
By Derren Hayes A LANDMARK legal ruling that highlighted the case of an LGV driver unable to find a job for more than four years has left transport employment experts bemused.
Jamieson Wilson, 41, an LGV driver from Nottingham, successfully challenged the government's policy to withhold benefits from those who refuse to undertake unpaid work placements.
Wilson, whose last haulage job as an agency driver at British Gypsum ended in late 2008, had been claiming benefits for three years when he was enrolled on the Department for Work and Pensions' (DWP) Community Action Programme and offered a job collecting and repairing old furniture for 30 hours a week for six months. He refused to take part "because I knew it wouldn't help me find employment", he said.
After a lengthy legal battle, the Court of Appeal ruled last week that the scheme was legally flawed. Wilson now meets an advisor every three to four weeks to help him find work.
The case has surprised many in the haulage sector. Frank Taylor, area manager at the Road Haulage Association, said there was a shortage of drivers in Nottingham.
"85% of companies that use LGVs in Nottingham have vacancies and agencies are screaming out for drivers.
"If a driver was unemployed for a week, I'd be surprised," he added.
Gwenn Winters, programme manager at Skills for Logistics, said that employers are "hungry" for drivers and that about 1,300 driving jobs were advertised on the government's website last week, 137 of which were local to Nottingham.
A DWP spokeswoman said job seekers are only placed on the programme "if we think they are not serious about finding work".
"We know there are tons of vacancies out there for LGV drivers," she added.