APN and HSE close to load restraint agreement
21st february 2013
Page 4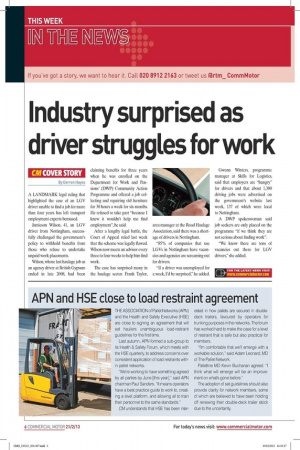 Page 4, 21st february 2013 —
APN and HSE close to load restraint agreement
Close
THE ASSOCIATION of Pallet Networks (APN) and the Health and Safety Executive (HSE) are close to signing an agreement that will set hauliers unambiguous load-restraint guidelines for the first time.
Last autumn, APN formed a sub-group to its Health & Safety Forum, which meets with the HSE quarterly, to address concerns over consistent application of load restraints within pallet networks.
"We're working to have something agreed by all parties by June [this year]," said APN chairman Paul Sanders. "It means operators have a best practice guide to work to, creating a level platform, and allowing all to train their personnel to the same standards."
CM understands that HSE has been interested in how pallets are secured in doubledeck trailers, favoured by operators for trunking purposes in the networks. The forum has worked hard to make the case for a level of restraint that is safe but also practical for members.
"I'm comfortable that we'll emerge with a workable solution," said Adam Leonard, MD of The Pallet Network.
Palletline MD Kevin Buchanan agreed. "I think what will emerge will be an improvement on what's gone before."
The adoption of set guidelines should also provide clarity for network members, some of which are believed to have been holding off renewing their double-deck trailer stock due to the uncertainty.