Behind the d
21st february 2013
Page 39
Page 40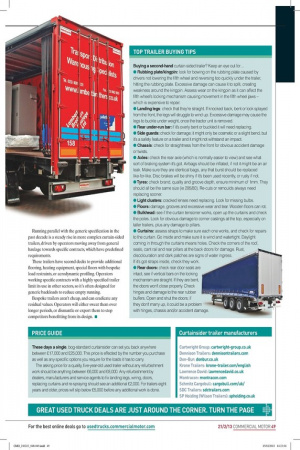 Page 39, 21st february 2013 —
Behind the d
Close
The backbone of the road transport industry is the versatile, lightweight and rather cheap curtain-sided semi-trailer Words: Kevin Swallow The curtain-sided trailer is the haulage industry's everyday workhorse. It's light, easy to load through the sides and rear, easy to repair, maintain and service — and it's cheap.
Trailer manufacturer Boalloy takes credit for introducing the curtained trailer in the late 1960s, but it was the trailer's arrival at the Motor Show at Earls Court in 1970 that established it as a proper alternative to box and flatbeds.
Today, UK production of the curtain-sided trailer, the biggest seller of all trailer products, is led by manufacturers SDC Trailers, Montracon and Lawrence David.
The post-2008 recession has seen end-users opt for more lease and hire deals, so demand for generic, new-build curtain-sided trailers is from finance houses, manufacturers and rental companies. It is from these sources that the majority of used curtainsider stock will come from over the next five years.
Used market meets peaks in demand Revamped used trailers, with new curtains and a lick of paint, are always popular with family-run hauliers and owner-drivers, but an increasing number of logistics companies have also sourced from the used market to meet peaks in demand.
Running parallel with the generic specification in the past decade is a steady rise in more complex curtain-sided trailers, driven by operators moving away from general haulage towards specific contracts, which have predefined requirements.
These trailers have second decks to provide additional flooring, heating equipment, special floors with bespoke load restraints, or aerodynamic profiling. Operators working specific contracts with a highly specified trailer limit its use in other sectors, so it's often designed for generic backloads to reduce empty running.
Bespoke trailers aren't cheap, and can eradicate any residual values. Operators will either sweat them over longer periods, or dismantle or export them to stop competitors benefitting from its design. • If you buy a second-hand curtain-sided trailer, it's likely you'll need to replace the curtains. It's a simple process that can cost about £500, depending on who does it, but there are several issues to consider.
Increasingly, operators are specifying curtain-sided trailers that meet the EN12642-XL standard, which requires the bulkhead to absorb 50% of the payload, take 40% through the side curtains and 30% through the rear doors. SDC Trailers introduced this two years ago for curtainsided trailers, and Lawrence David did the same for pillarless curtainsiders in 2011.
You will not be able to upgrade an older curtain-sided trailer to EN12642-XL by simply adding compliant curtains, as the rest of the trailer's superstructure won't meet the requirements.
An older trailer is more likely to meet EN12642-L, which requires a 5-tonne load capacity through the bulkhead, zero-load capacity through the sides and 25% through the rear. If you buy an older trailer you might want to upgrade its internal load restraint system, as both Vosa and the Health and Safety Executive have identified insecure loads as a priority when stopping vehicles.
If you replace curtains, it might be prudent to enquire about curtains containing a security mesh that is built into the first vertical metre of the curtain — it should cost about £500 to fit.
TOP TRAILER BUYING TIPS Buying a second-hand curtain-sided trailer? Keep an eye out for...
• Rubbing plate/kingpin: look for bowing on the rubbing plate caused by drivers not lowering the fifth wheel and reversing too quickly under the trailer, hitting the rubbing plate. Excessive damage can cause it to split, creating weakness around the kingpin. Assess wear on the kingpin as it can affect the fifth wheel's locking mechanism causing movement in the fifth wheel jaws — which is expensive to repair.
• Landing legs: check that they're straight. If knocked back, bent or look splayed from the front, the legs will struggle to wind up. Excessive damage may cause the legs to buckle under weight, once the tractor unit is removed.
• Rear under-run bar: if it's overly bent or buckled it will need replacing.
• Side guards: check for damage; it might only be cosmetic or a slight bend, but it's a safety feature on a trailer and it might not withstand an impact.
• Chassis: check for straightness from the front for obvious accident damage or twists.
• Axles: check the rear axle (which is normally easier to view) and see what sort of braking system it's got. Airbags should be inflated, if not it might be an air leak. Make sure they are identical bags, any that burst should be replaced like-for-like. Disc brakes will be shiny if it's been used recently, or rusty if not.
• Tyres: check brand, quality and groove depth, ensure minimum of 1mm. They should all be the same size (ie 295/80). Re-cuts or remoulds always need replacing sooner.
• Light clusters: cracked lenses need replacing. Look for missing bulbs.
• Floors: damage, grooves and excessive wear and tear. Wooden floors can rot.
• Bulkhead: see if the curtain tensioner works, open up the curtains and check the poles. Look for obvious damage to corner castings at the top, especially on taller trailers, plus any damage to pillars.
• Curtains: assess straps to make sure each one works, and check for repairs to the curtain. Go inside and make sure it is wind and watertight. Daylight coming in through the curtains means holes. Check the corners of the roof, seals, cant rail and rear pillars at the back doors for damage. Rust, discolouration and dark patches are signs of water ingress. If it's got straps inside, check they work.
• Rear doors: check rear door seals are intact, see if vertical bars on the locking mechanism are straight. If they are bent, the doors won't close properly. Check hinges and damage to the rear rubber buffers. Open and shut the doors; if they don't marry up, it could be a problem with hinges, chassis and/or accident damage.
PRICE GUIDE These days a single, bog-standard curtainsider can set you back anywhere between £17,000 and £25,000. This price is effected by the number you purchase as well as any specific options you require for the loads it has to carry.
The asking price for a quality, five-year-old used trailer without any refurbishment work should be anything between £6,000 and £8,000. Any refurbishment by dealers, manufacturers and service agents to fix landing legs, wiring, doors, replacing curtains and re-spraying should see an additional £2,000. For trailers eight years and older, prices will slip below £5,000 before any additional work is done.