Walk the line
21st february 2013
Page 38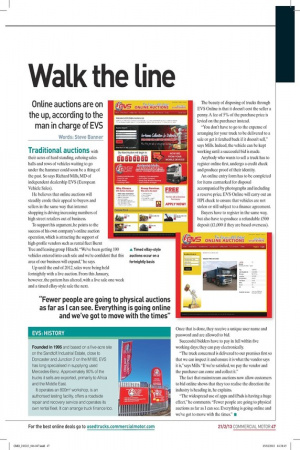 Page 38, 21st february 2013 —
Walk the line
Close
Online auctions are on the up, according to the man in charge of EVS Words: Steve Banner Traditional auctions with their acres of hard standing, echoing sales halls and rows of vehicles waiting to go under the hammer could soon be a thing of the past. So says Richard Mills, MD of independent dealership EVS (European Vehicle Sales).
He believes that online auctions will steadily erode their appeal to buyers and sellers in the same way that internet shopping is driving increasing numbers of high street retailers out of business.
Up until the end of 2012, sales were being held fortnightly with a live auction. From this January, however, the pattern has altered, with a live sale one week and a timed eBay-style sale the next.
The beauty of disposing of trucks through EVS Online is that it doesn't cost the seller a penny. A fee of 5% of the purchase price is levied on the purchaser instead.
"You don't have to go to the expense of arranging for your truck to be delivered to a sale or get it fetched back if it doesn't sell," says Mills. Indeed, the vehicle can be kept working until a successful bid is made.
Anybody who wants to sell a truck has to register online first, undergo a credit check and produce proof of their identity.
An online entry form has to be completed for items earmarked for disposal accompanied by photographs and including a reserve price. EVS Online will carry out an HPI check to ensure that vehicles are not stolen or still subject to a finance agreement.
Buyers have to register in the same way, but also have to produce a refundable £500 deposit (£1,000 if they are based overseas).
Once that is done, they receive a unique user name and password and are allowed to bid.
Successful bidders have to pay in full within five working days; they can pay electronically.
"The truck concerned is delivered to our premises first so that we can inspect it and ensure it is what the vendor says it is," says Mills. "If we're satisfied, we pay the vendor and the purchaser can come and collect it."
The fact that mainstream auctions now allow customers to bid online shows that they too realise the direction the industry is heading in, he explains.
"The widespread use of apps and iPads is having a huge effect," he comments. "Fewer people are going to physical auctions as far as I can see. Everything is going online and we've got to move with the times." • EVS: HISTORY Founded in 1995 and based on a five-acre site on the Sandtoft Industrial Estate, close to Doncaster and Junction 2 on the M180, EVS has long specialised in supplying used Mercedes-Benz. Approximately 90% of the trucks it sells are exported, primarily to Africa and the Middle East.
It operates an 800m2 workshop, is an authorised testing facility, offers a roadside repair and recovery service and operates its own rental fleet. It can arrange truck finance too.