Beginning of the end
21st february 2013
Page 37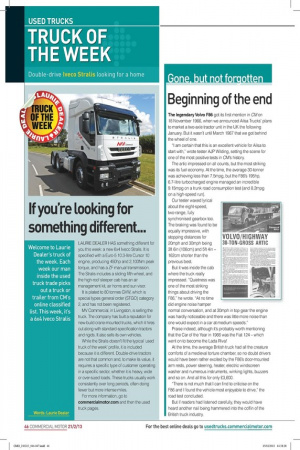 Page 37, 21st february 2013 —
Beginning of the end
Close
The legendary Volvo F86 got its first mention in CMon 18 November 1966, when we announced Ailsa Trucks' plans to market a two-axle tractor unit in the UK the following January. But it wasn't until March 1967 that we got behind the wheel of one.
"I am certain that this is an excellent vehicle for Ailsa to start with," wrote tester AJP Wilding, setting the scene for one of the most positive tests in CM's history.
The artic impressed on all counts, but the most striking was its fuel economy. At the time, the average 30-tonner was achieving less than 7.5mpg, but the F86's 195hp, 6.7-litre turbocharged engine managed an incredible 9.15mpg on a trunk road consumption test (and 8.2mpg on a high-speed run).
Our tester waxed lyrical about the eight-speed, two-range, fully synchronised gearbox too. The braking was found to be equally impressive, with stopping distances for 20mph and 30mph being 3ft 6in (106cm) and 5ft 4in — 162cm shorter than the previous best.
But it was inside the cab where the truck really impressed. "Quietness was one of the most striking things about driving the F86," he wrote. "At no time did engine noise hamper normal conversation, and at 30mph in top gear the engine was hardly noticeable and there was little more noise than one would expect in a car at medium speeds."
Praise indeed, although it's probably worth mentioning that the Car of the Year in 1966 was the Fiat 124— which went on to become the Lada Riva!
At the time, the average British truck had all the creature comforts of a medieval torture chamber, so no doubt drivers would have been rather excited by the F86's door-mounted arm rests, power steering, heater, electric windscreen washer and numerous instruments, winking lights, buzzers and so on. And all this for only £3,600.
"There is not much that I can find to criticise on the F86 and I found the vehicle most enjoyable to drive," the road test concluded.
But if readers had listened carefully, they would have heard another nail being hammered into the coffin of the British truck industry.