Fuel tanker drivers to receive additional training
21st february 2013
Page 35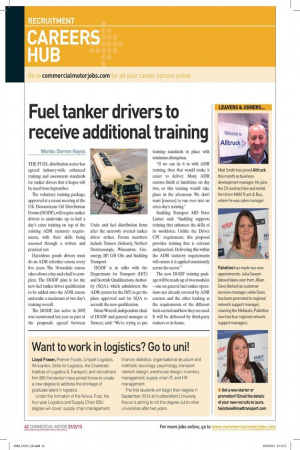 Page 35, 21st february 2013 —
Fuel tanker drivers to receive additional training
Close
Words: Derren Hayes THE FUEL distribution sector has agreed industry-wide enhanced training and assessment standards for tanker drivers that it hopes will be used from September.
The voluntary training package, approved at a recent meeting of the UK Downstream Oil Distribution Forum (DODF), will require tanker drivers to undertake up to half a day's extra training on top of the existing ADR statutory requirements, with their skills being assessed through a written and practical test.
Hazardous goods drivers must do an ADR refresher course every five years. The 10-module course takes about a day and a half to complete. The DODF plan is for the new fuel tanker driver qualification to be added onto the ADR course and make a maximum of two day's training overall.
The DODF, last active in 2007, was reconvened last year as part of the proposals agreed between Unite and fuel distribution firms after the narrowly averted tanker driver strikes. Forum members include Turners (Soham), Norbert Dentressangle, Wincanton, Greenergy, BP, GB Oils and Suckling Transport.
DODF is in talks with the Department for Transport (DfT) and Scottish Qualifications Authority (SQA), which administers the ADR system for the DfT, to get the plans approved and for SQA to accredit the new qualification.
Brian Won-all, independent chair of DODF and general manager at Turners, said: "We're trying to put training standards in place with minimum disruption.
"If we can tie it in with ADR training, then that would make it easier to deliver. Many ADR courses finish at lunchtime on day two, so this training would take place in the afternoon. We don't want [courses] to run over into an extra day's training."
Suckling Transport MID Peter Lamer said: "Suckling supports training that enhances the skills of its workforce. Unlike the Driver CPC requirement, this proposal provides training that is relevant and practical. Delivering this within the ADR statutory requirements will ensure it is applied consistently across the sector."
The new DODF training package will be made up of two modules — one on general fuel tanker operations not already covered by ADR courses; and the other looking at the requirements of the different fuels carried and how they are used. It will be delivered by third-party trainers or in-house.