CM visited Neil Bartlett Haulage to find out what
21st february 2013
Page 29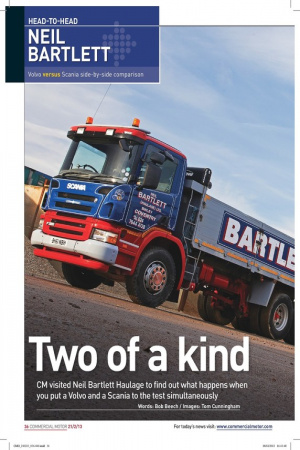 Page 31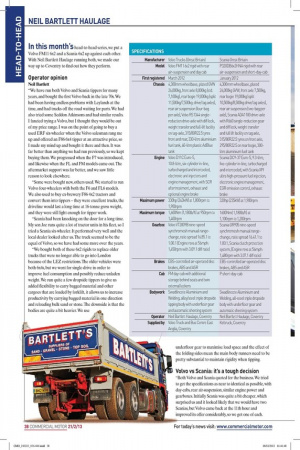 Page 32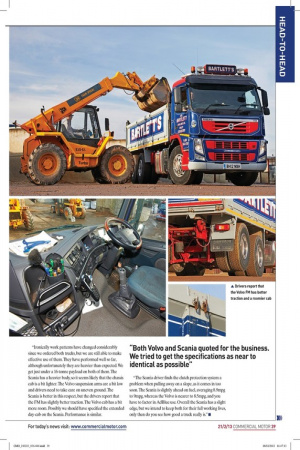 Page 33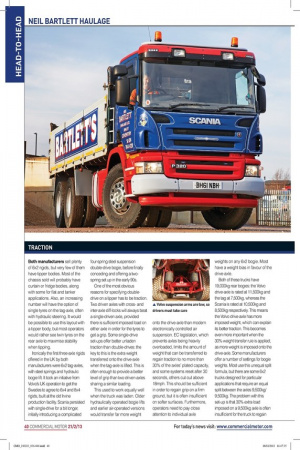 Page 34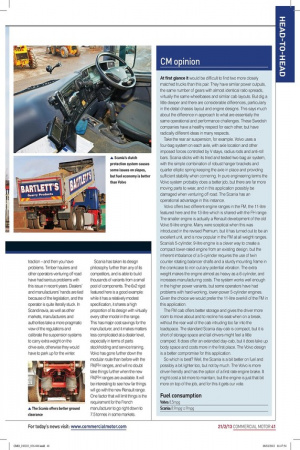 Page 29, 21st february 2013 —
CM visited Neil Bartlett Haulage to find out what
Close
CM visited Neil Bartlett Haulage to find out what happens when you put a Volvo and a Scania to the test simultaneously Words: Bob Beech / Images: Tom Cunningham In this month's head-to-head series, we put a Volvo FM11 6x2 and a Scania 6x2 up against each other. With Neil Bartlett Haulage running both, we made our way up to Coventry to find out how they perform.
Operator opinion Neil Bartlett "We have run both Volvo and Scania tippers for many years, and bought the first Volvo back in the late 70s. We had been having endless problems with Leylands at the time, and had trucks off the road waiting for parts. We had also tried some Seddon Atkinsons and had similar results. I fancied trying a Volvo, but I thought they would be out of my price range. I was on the point of going to buy a used ERF six-wheeler when the Volvo salesman rang me up and offered an F86 6x4 tipper at an attractive price, so I made my mind up and bought it there and then. It was far better than anything we had run previously, so we kept buying them. We progressed when the F7 was introduced, and likewise when the FL and FM models came out. The aftermarket support was far better, and we saw little reason to look elsewhere.
"Some were bought new, others used. We started to run Volvo four-wheelers with both the F6 and FL6 models. We also used to buy ex-brewery F86 4x2 tractors and convert them into tippers — they were excellent trucks, the driveline would last a long time at 16-tonne gross weight, and they were still light enough for tipper work.
"Scania had been knocking on the door for a long time. My son Joe runs quite a lot of tractor units in his fleet, so I tried a Scania six-wheeler. It performed very well and the local dealer looked after us. The truck seemed to be the equal of Volvo, so we have had some more over the years.
"We bought both of these 6x2 rigids to replace older trucks that were no longer able to go into London because of the LEZ restrictions. The older vehicles were both 6x4s, but we went for single-drive in order to improve fuel consumption and possibly reduce unladen weight. We run quite a few dropside tippers to give us added flexibility to carry bagged material and other cargoes that are loaded by forklift, it allows us to increase productivity by carrying bagged material in one direction and reloading bulk sand or stone. The downside is that the bodies are quite a bit heavier. We use ills underfloor gear to maximise load space and the effect of the folding sides mean the main body runners need to be pretty substantial to maintain rigidity when tipping.
Volvo vs Scania: it's a tough decision "Both Volvo and Scania quoted for the business. We tried to get the specifications as near to identical as possible, with day-cabs, rear air-suspension, similar engine power and gearboxes. Initially Scania was quite a bit cheaper, which surprised us and it looked likely that we would have two Scanias, but Volvo came back at the 11th hour and improved its offer considerably, so we got one of each.
"Ironically work patterns have changed considerably since we ordered both trucks, but we are still able to make effective use of them. They have performed well so far, although unfortunately they are heavier than expected. We get just under a 16-tonne payload on both of them. The Scania has a heavier body, so it seems likely that the chassis cab is a bit lighter. The Volvo suspension arms are a bit low and drivers need to take care on uneven ground. The Scania is better in this respect, but the drivers report that the FM has slightly better traction. The Volvo cab has a bit more room. Possibly we should have specified the extended day-cab on the Scania. Performance is similar.
"The Scania driver finds the clutch protection system a problem when pulling away on a slope, as it comes in too soon. The Scania is slightly ahead on fuel, averaging 8.9mpg to 9mpg, whereas the Volvo is nearer to 8.5mpg, and you have to factor in AdBlue use. Overall the Scania has a slight edge, but we intend to keep both for their full working lives, only then do you see how good a truck really is." • SPECIFICATIONS Scania Great Britain P320DB6x2H NA rigid with rear air-suspension and short-day-cab January 2012 4,300mm wheelbase, plated 26,000kg GVW, front axle 7,500kg, rear bogie 19,000kg (split 10,500kg/8,500kg:drive/tag axles), rear air suspension (two-bag per axle), Scania ADA1100 drive-axle with R660 single-reduction gear and diff lock, weight transfer and full lift facility on tag axle, 315/80R22.5 tyres on front axle, 295/80R22.5 on rear bogie, 300Litre aluminium fuel tank Scania DC9-37 Euro-5, 9.3-litre, five-cylinder in-line, turbocharged and intercooled, with Scania XPI ultra high-pressure fuel injection, electronic engine management, EGR emission control, exhaust brake 320hp (235kW) at 1,90Orpm 1600Nm( 1,1801.b/ft] at 1,100rpm to 1,200rpm Scania G R905 nine-speed synchromesh manual rangechange, ratio spread 1641.1 to 1.00.1, Scania clutch protection system, (Engine revs at 56mph: 1,480rpm with 3.07.1 diff ratio] EBS-controlled air-operated disc brakes, ABS and ASR P short-day-cab Swadlincote Aluminium and Welding, all-steel triple dropside body with underfloor gear and automatic sheeting system Neil Bartlett Haulage, Coventry Keltruck, Coventry Manufacturer Volvo Trucks (Great Britain] Model Volvo FM11 6x2 rigid with rear air-suspension and day cab First registered March 2012 Chassis 4,300mm wheelbase, plated GVW 26,000kg, front axle 8,000kg (std. 7,100kgJ, rear bogie 19,000kg (split 11,500kg/7,500kg: drive/tag axles), rear airsuspension (four-bag per axle), Volvo RS1344 singlereduction drive-axle with diff lock, weight transferand full-lift facility on tag-axle, 315/80R22.5 tyres front and rear 330-litre aluminium fuel tank, 40-litre plastic AdBlue tank Engine Volvo D11C Euro-5, 10.8-litre, six-cylinder in-line, turbocharged and intercooled, electronic unit injectors and engine management, with SCR afterlreatment, exhaust and optional engine brake Maximum power 330hp (243MM at 1,800rpm to 1,90Orpm Maximum torque 1,600Nm (1,1801.b/fd at 950rpm to 1,40Orpm Gearbox Volvo VT2009B nine-speed synchromesh manual rangechange, ratio spread 1685.1 to 1.00.1 (Engine revs at 56mph: 1,450rpm with 3.09.1 diff ratio] Brakes Cab Bodywork Operator Supplied by Swadlincote Aluminium and Welding, alloy/steel triple dropside tipping body with underfloor gear and automatic sheeting system Neil Bartlett Haulage, Coventry Volvo Truck and Bus Centre East Anglia, Coventry EBS-controlled air-operated disc brakes, ABS and ASR FM day-cab with additional storage behind seats and twin external lockers TRACTION Both manufacturers sell plenty of 6x2 rigids, but very few of them have tipper bodies. Most of the chassis sold will probably have curtain or fridge bodies, along with some for flat and tanker applications. Also, an increasing number will have the option of single tyres on the tag-axle, often with hydraulic steering. It would be possible to use this layout with a tipper body, but most operators would rather see twin tyres on the rear axle to maximise stability when tipping.
Ironically the first three-axle rigids offered in the UK by both manufacturers were 6x2 tag-axles, with steel springs and hydraulic bogie lift. It took an initiative from Volvo's UK operation to get the Swedes to agree to 6x4 and 8x4 rigids, built at the old Irvine production facility. Scania persisted with single-drive for a bit longer, initially introducing a complicated four-spring steel suspension double-drive bogie, before finally conceding and offering a twospring set up in the early 90s.
One of the most obvious reasons for specifying doubledrive on a tipper has to be traction. Two driven axles with crossand inter-axle diff-locks will always beat a single-driven axle, provided there is sufficient imposed load on either axle in order for the tyres to get a grip. Some single-drive set-ups offer better unladen traction than double-drives: the key to this is the extra weight transferred onto the drive-axle when the tag-axle is lifted. This is often enough to provide a better level of grip than two driven-axles sharing a similar loading.
This used to work equally well when the truck was laden. Older hydraulically operated bogie lifts and earlier air-operated versions would transfer far more weight onto the drive-axle than modern electronically controlled air suspension. EC legislation, which prevents axles being heavily overloaded, limits the amount of weight that can be transferred to regain traction to no more than 30% of the axles' plated capacity, and some systems reset after 30 seconds, others cut out above 18mph. This should be sufficient in order to regain grip on a firm ground, but it is often insufficient on softer surfaces. Furthermore, operators need to pay close attention to individual axle weights on any 6x2 bogie. Most have a weight bias in favour of the drive-axle.
Both of these trucks have 19,000kg rear bogies: the Volvo drive-axle is rated at 11,500kg and the tag at 7,500kg, whereas the Scania is rated at 10,500kg and 8,500kg respectively. This means the Volvo drive-axle has more imposed weight, which can explain its better traction. This becomes even more important when the 30% weight transfer rule is applied, as more weight is imposed onto the drive-axle. Some manufacturers offer a number of settings for bogie weights. Most use this unequal split formula, but there are some 6x2 trucks designed for particular applications that require an equal split between the axles 9,500kg/ 9,500kg. The problem with this set-up is that 30% extra load imposed on a 9,500kg axle is often insufficient for the truck to regain traction — and then you have problems. Timber hauliers and other operators venturing off road have had serious problems with this issue in recent years. Dealers' and manufacturers' hands are tied because of the legislation, and the operator is quite literally stuck. In Scandinavia, as well as other markets, manufacturers and authorities take a more pragmatic view of the regulations and calibrate the suspension systems to carry extra weight on the drive-axle, otherwise they would have to park up for the winter.
Scania has taken its design philosophy further than any of its competitors, and is able to build thousands of variants from a small pool of components. The 6x2 rigid featured here is a good example: while it has a relatively modest specification, it shares a high proportion of its design with virtually every other model in the range. This has major cost savings for the manufacturer, and it makes matters less complicated at a dealer level, especially in terms of parts stockholding and service training. Volvo has gone further down the modular route than before with the FM/FH ranges, and will no doubt take things further when the new FM/FH ranges are available. It will be interesting to see how far things will go with the new Renault range. One factor that will limit things is the requirement for the French manufacturer to go right down to 7.5 tonnes in some markets.
CM opinion At first glance it would be difficult to find two more closely matched trucks than this pair. They have similar power outputs, the same number of gears with almost identical ratio spreads, virtually the same wheelbases and similar cab layouts. But dig a little deeper and there are considerable differences, particularly in the detail chassis layout and engine designs. This says much about the difference in approach to what are essentially the same operational and performance challenges. These Swedish companies have a healthy respect for each other, but have radically different ideas in many respects.
Take the rear air suspension, for example. Volvo uses a four-bag system on each axle, with axle location and other imposed forces controlled by V stays, radius rods and anti-roll bars. Scania sticks with its tried and tested two-bag air system, with the simple combination of robust hanger brackets and quarter elliptic spring keeping the axle in place and providing sufficient stability when cornering. In pure engineering terms the Volvo system probably does a better job, but there are far more moving parts to wear, and in this application possibly be damaged when venturing off road. The Scania has an operational advantage in this instance.
Volvo offers two different engine ranges in the FM, the 11-litre featured here and the 13-litre which is shared with the FH range. The smaller engine is actually a Renault development of the old Volvo 9-litre engine. Many were sceptical when this was introduced in the revised Premium, but it has turned out to be an excellent unit, and is now popular in the FM at all weight ranges. Scania's 5-cylinder, 9-litre engine is a clever way to create a compact lower-rated engine from an existing design, but the inherent imbalance of a 5-cylinder requires the use of twin counter rotating balancer shafts and a sturdy mounting frame in the crankcase to iron out any potential vibration. The extra weight makes the engine almost as heavy as a 6-cylinder, and increases manufacturing costs. The system works well enough in the higher power variants, but some operators have had problems with hard-working, lower-power 5-cylinder engines. Given the choice we would prefer the 11-litre overkill of the FM in this application.
The FM cab offers better storage and gives the driver more room to move about and to recline his seat when on a break, without the rear wall of the cab intruding too far into the loadspace. The standard Scania day-cab is compact, but it is short of storage space and tall drivers might feel a little cramped. It does offer an extended day-cab, but it does take up body space and costs more in the first place. The Volvo design is a better compromise for this application.
So which is best? Well, the Scania is a bit better on fuel and possibly a bit lighter too, but not by much. The Volvo is more driver-friendly and has the option of a first rate engine brake. It might cost a bit more to maintain, but the engine is just that bit more on top of the job, and for this it gets our vote.
Fuel consumption Volvo: 8 5mpg Scania: 8 9mpg to 9mpg