Make it worthwhile
21st february 2013
Page 2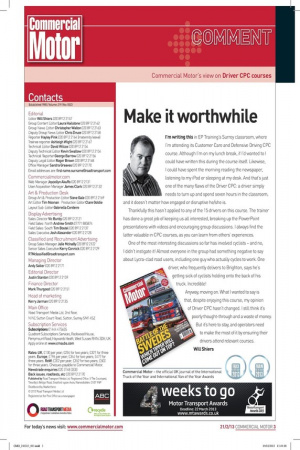 Page 2, 21st february 2013 —
Make it worthwhile
Close
I'm writing this in EP Training's Surrey classroom, where I'm attending its Customer Care and Defensive Driving CPC course. Although I'm on my lunch break, if I'd wanted to I could have written this during the course itself. Likewise, I could have spent the morning reading the newspaper Listening to my iPod or sleeping at my desk. And that's just one of the many flaws of the Driver CPC: a driver simply needs to turn up and spend seven hours in the classroom, and it doesn't matter how engaged or disruptive he/she is.
Thankfully this hasn't applied to any of the 15 drivers on this course. The trainer has done a great job of keeping us all interested, breaking up the PowerPoint presentations with videos and encouraging group discussions. I always find the Latter valuable in CPC courses, as you can learn from others' experiences.
One of the most interesting discussions so far has involved cyclists — and no, I didn't instigate it! Almost everyone in the group had something negative to say about Lycra-clad road users, including one guy who actually cycles to work. One driver, who frequently delivers to Brighton, says he's getting sick of cyclists holding onto the back of his truck. Incredible!
Anyway, moving on. What I wanted to say is that, despite enjoying this course, my opinion of Driver CPC hasn't changed. I still think it's poorly thought-through and a waste of money. But it's here to stay, and operators need to make the most of it by ensuring their drivers attend relevant courses. Will Shiers