Health check
21st february 2013
Page 15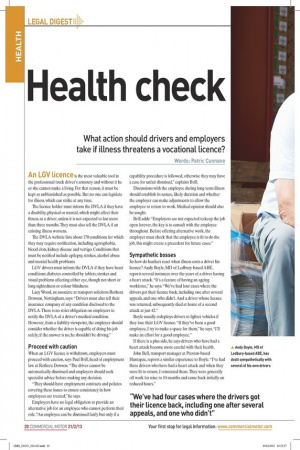 Page 16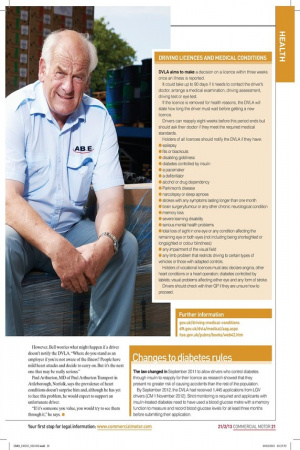 Page 15, 21st february 2013 —
Health check
Close
What action should drivers and employers take if illness threatens a vocational licence?
Words: Patric Cunnane An LGV licence is the most valuable tool in the professional truck driver's armoury and without it he or she cannot make a living. For that reason, it must be kept as unblemished as possible. But no one can legislate for illness, which can strike at any time.
The licence holder must inform the DVLA if they have a disability, physical or mental, which might affect their fitness as a driver, unless it is not expected to last more than three months. They must also tell the DVLA if an existing illness worsens.
The DVLA website lists about 170 conditions for which they may require notification, including agoraphobia, blood clots, kidney disease and vertigo. Conditions that must be notified include epilepsy, strokes, alcohol abuse and mental health problems.
LGV drivers must inform the DVLA if they have heart conditions; diabetes controlled by tablets; strokes and visual problems affecting either eye, though not short or long sightedness or colour blindness.
Lucy Wood, an associate at transport solicitors Rothera Dowson, Nottingham, says: "Drivers must also tell their insurance company of any condition disclosed to the DVLA. There is no strict obligation on employers to notify the DVLA of a driver's medical condition. However, from a liability viewpoint, the employer should consider whether the driver is capable of doing his job safely; if the answer is no, he shouldn't be driving."
Proceed with caution When an LGV licence is withdrawn, employers must proceed with caution, says Paul Brill, head of employment law at Rothera Dowson. "The driver cannot be automatically dismissed and employers should seek specialist advice before making any decision.
"They should have employment contracts and policies covering these issues to ensure consistency in how employees are treated," he says.
Employers have no legal obligation to provide an alternative job for an employee who cannot perform their role. "An employee can be dismissed fairly but only if a capability procedure is followed, otherwise they may have a case for unfair dismissal," explains Brill.
Discussions with the employee during long-term illness should establish its nature, likely duration and whether the employer can make adjustments to allow the employee to return to work. Medical opinion should also be sought.
Brill adds: "Employers are not expected to keep the job open forever, the key is to consult with the employee throughout. Before offering alternative work, the employer must check that the employee is fit to do the job, this might create a precedent for future cases."
Sympathetic bosses So how do hauliers react when illness costs a driver his licence? Andy Boyle, MD of L,edbury-based ABE, reports several instances over the years of a driver having a heart attack. "It's a feature of having an ageing workforce," he says. "We've had four cases where the drivers got their licence back, including one after several appeals, and one who didn't. And a driver whose licence was returned, subsequently died at home of a second attack at just 42."
Boyle usually redeploys drivers to lighter vehicles if they lose their LGV licence. "If they've been a good employee, I try to make a space for them," he says. "I'll make an effort for a good employee."
If there is a plus side, he says drivers who have had a heart attack become more careful with their health.
John Bell, transport manager at Preston-based Huntapac, reports a similar experience to Boyle. "I've had three drivers who have had a heart attack and when they were fit to return, I reinstated them. They were generally off work for nine to 10 months and came back initially on reduced hours."
However, Bell worries what might happen if a driver doesn't notify the DVLA. "Where do you stand as an employer if you're not aware of the illness? People have mild heart attacks and decide to carry on. But it's the next one that may be really serious."
Paul Arthurton, MD of Paul Arthurton Transport in Attleborough, Norfolk, says the prevalence of heart conditions doesn't surprise him and, although he has yet to face this problem, he would expect to support an unfortunate driver.
"If it's someone you value, you would try to see them through it," he says. r DRIVING LICENCES AND MEDICAL CONDITIONS DVLA aims to make a decision on a licence within three weeks once an illness is reported.
It could take up to 90 days if it needs to contact the driver's doctor, arrange a medical examination, driving assessment, driving test or eye test.
If the licence is removed for health reasons, the DVLA will state how long the driver must wait before getting a new licence.
Drivers can reapply eight weeks before this period ends but should ask their doctor if they meet the required medical standards.
Holders of all licences should notify the DVLA if they have: • epilepsy • fits or blackouts • disabling giddiness • diabetes controlled by insulin • a pacemaker • a defibrillator • alcohol or drug dependency • Parkinson's disease • narcolepsy or sleep apnoea • strokes with any symptoms lasting longer than one month • brain surgery/tumour or any other chronic neurological condition • memory loss • severe learning disability • serious mental health problems • total loss of sight in one eye or any condition affecting the remaining eye or both eyes (not including being shortsighted or longsighted or colour blindness) • any impairment of the visual field • any limb problem that restricts driving to certain types of vehicles or those with adapted controls.
Holders of vocational licences must also declare angina, other heart conditions or a heart operation; diabetes controlled by tablets; visual problems affecting either eye and any form of stroke. Drivers should check with their GP if they are unsure how to proceed.
Further information Igov.uk/driving-medical-conditions dft.gov.uk/dvla/medical/aag.aspx hse.gov.uk/pubns/books/web42.htm 1•16 • • .1- - The law changed in September 2011 to allow drivers who control diabetes through insulin to reapply for their licence as research showed that they present no greater risk of causing accidents than the rest of the population.
By September 2012, the DVLA had received 1,445 applications from LGV drivers (CM 1 November 2012). Strict monitoring is required and applicants with insulin-treated diabetes need to have used a blood glucose metre with a memory function to measure and record blood glucose levels for at least three months before submitting their application.