Lay to waste
21st february 2013
Page 10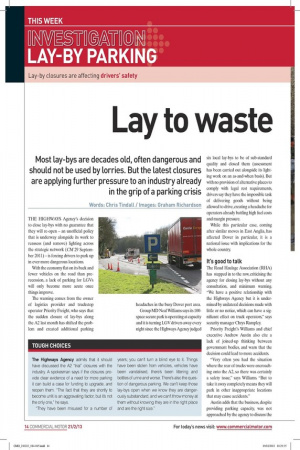 Page 11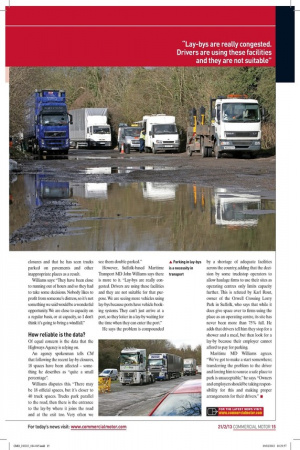 Page 10, 21st february 2013 —
Lay to waste
Close
Most lay-bys are decades old, often dangerous and should not be used by lorries. But the latest closures are applying further pressure to an industry already in the grip of a parking crisis Words: Chris I indall / Images: Uraham Richardson THE HIGHWAYS Agency's decision to close lay-bys with no guarantee that they will re-open — an unofficial policy that is underway alongside its work to reassess (and remove) lighting across the strategic network (CM 29 September 2011) — is forcing drivers to park up in ever-more dangerous locations.
With the economy flat on its back and fewer vehicles on the road than prerecession, a lack of parking for LGVs will only become more acute once things improve.
The warning comes from the owner of logistics provider and truckstop operator Priority Freight, who says that the sudden closure of lay-bys along the A2 last month has shifted the problem and created additional parking headaches in the busy Dover port area.
Group MD Neal Williams says its 100space secure park is operating at capacity and it is turning LGV drivers away every night since the Highways Agency judged six local lay-bys to be of sub-standard quality and closed them (assessment has been carried out alongside its lighting work on an as-and-when basis). But with no provision of alternative places to comply with legal rest requirements, drivers say they have the impossible task of delivering goods without being allowed to drive, creating a headache for operators already battling high fuel costs and margin pressure.
While this particular case, coming after similar moves in East Anglia, has affected Dover in particular, it is a national issue with implications for the whole country.
It's good to talk The Road Haulage Association (RHA) has stepped in to the row, criticising the agency for closing lay-bys without any consultation, and minimum warning. "We have a positive relationship with the Highways Agency but it is undermined by unilateral decisions made with little or no notice, which can have a significant effect on truck operators," says security manager Chrys Rampley.
Priority Freight's Williams and chief executive Andrew Austin also cite a lack of joined-up thinking between government bodies, and warn that the decision could lead to more accidents.
"Very often you had the situation where the rear of trucks were encroaching onto the A2, so there was certainly a safety issue," says Williams. "But to take it away completely means they will park in other inappropriate locations that may cause accidents."
Austin adds that the business, despite providing parking capacity, was not approached by the agency to discuss the closures and that he has seen trucks parked on pavements and other inappropriate places as a result.
Williams says: "They have been close to running out of hours and so they had to take some decisions. Nobody likes to profit from someone's distress, so it's not something we said would be a wonderful opportunity. We are close to capacity on a regular basis, or at capacity, so I don't think it's going to bring a windfall."
How reliable is the data?
Of equal concern is the data that the Highways Agency is relying on.
An agency spokesman tells CM that following the recent lay-by closures, 18 spaces have been affected — something he describes as "quite a small percentage".
Williams disputes this. "There may be 18 official spaces, but it's closer to 40 truck spaces. Trucks park parallel to the road, then there is the entrance to the lay-by where it joins the road and at the exit too. Very often we see them double parked."
However, Suffolk-based Maritime Transport MD John Williams says there is more to it. "Lay-bys are really congested. Drivers are using these facilities and they are not suitable for that purpose. We are seeing more vehicles using lay-bys because ports have vehicle booking systems. They can't just arrive at a port, so they loiter in a lay-by waiting for the time when they can enter the port."
He says the problem is compounded by a shortage of adequate facilities across the country, adding that the decision by some truckstop operators to allow haulage firms to use their sites as operating centres only limits capacity further. This is refuted by Karl Rout, owner of the Orwell Crossing Lorry Park in Suffolk, who says that while it does give space over to firms using the place as an operating centre, its site has never been more than 75% full. He adds that drivers tell him they stop for a shower and a meal, but then look for a lay-by because their employer cannot afford to pay for parking.
Maritime MD Williams agrees. "We've got to make a start somewhere; transferring the problem to the driver and forcing him to source a safe place to park is unacceptable," he says. "Owners and employers should be taking responsibility for this and making proper arrangements for their drivers." • TOUGH CHOICES The Highways Agency admits that it should have discussed the A2 "trial" closures with the industry. A spokesman says if the closures provide clear evidence of a need for more parking it can build a case for funding to upgrade, and reopen them. "The fact that they are shortly to become unlit is an aggravating factor, but it's not the only one," he says.
"They have been misused for a number of years; you can't turn a blind eye to it. Things have been stolen from vehicles, vehicles have been vandalised, there's been littering and bottles of urine and worse. There's also the question of dangerous parking. We can't keep those lay-bys open when we know they are dangerously substandard, and we can't throw money at them without knowing they are in the right place and are the right size."