OUT AND HOME. By "The Extractor."
21st February 1918
Page 20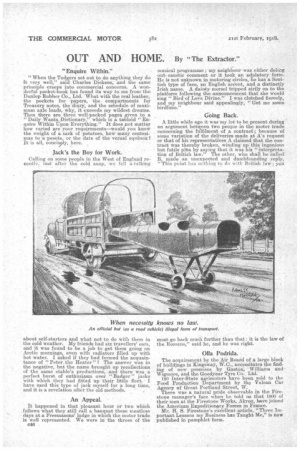 Page 20, 21st February 1918 —
OUT AND HOME. By "The Extractor."
Close
"Enquire Within."
"When the Todgers set out to do anything they do it very well," said Charles Dickens, and the same principle creeps into commercial concerns. A wonderful pocket-book has found its way to me from the Dunlop Rubber Co., Ltd. What with the real leather, the packets for. papers, the compartments for Treasury notes, the 'diary, and the schedule of maximum axle loads, why, it exceeds my wildest dreams. Then there are three well-packed pages given to a "Daily Wants Dictionary," which is a tabloid "Enquire Within Upon Everything." It does not matter how varied are your requirements—would you kilo* the weight of a sack of potatoes, how many centesiInas to -a-peseta, or the date of the vernal equinox? It is all, concisply, here.
Jack's the Boy for -Work.
Calling on some people in the West of England recently. lust after the cold snap, we fell a-talking about self-starters and what not to do with them in the cold weather. My friends had six travellers' cars, and it was found to be a job to get them going on Arctic mornings, even with radiators filled up with hot water. I asked if they had formed the acquaintance of "Peter the Heater " ? The answer was in the negative, but the name 'brought up recollections of the same stable's productions, and there was a perfect burst of enthusiasm over " Badger " jacks with which they had fitted up their little fleet. I have used this type of jack myself for a long time, and it is a revelation after the old methods. ,
An Appeal.
It happened in that pleasant hour or two which follows what they still call a banquet these meatless days at a Freemasons' lodge in which the motor trade is well represented. We were in the throes of the evla
musical programme ' • my neighb-otir was either doliag out caustic comment or it took an adulatory form. He is not unknown in motoring circles, he has a Scottish type of face, an English accent, and a -distinctly Irish name. A dainty morsel tripped airily on to the platform following the announcement that she would sing " Bird of Love Divine." I was clutched fiercely, and my neighbour said appealingly, "Get me some
GOing Back.
A little while ago it was mylot to be present during an argument between two people in the motor tradeconcerning the fulfilment of a contract ; because of some variation of the deliveries made at A's request or that of his.representatives A claimed that the contract Was thereby broken, winding up this ingenious but futile pita by saying that it was his "interpretationof British law.' The other, who shall he called B,. madean unexpected and dumbfounding reply, " This point has nothing to d with British law; you
must go back much further than that : it is the law of the Ramans," said he, and he was right.
011a Podrida.
The acquirement by the Air Board of a large block of baildings in Kingsway,WC., necessitates the find" mg of new premises by Gaston, -Williams and
Wigmore, and the Goodyear Tire Co.. Ltd. • 120 Inter-State agrimotors have been sold to the Food Production Department by the Vulcan Car Agency of Great Portland Street, W. • There was a natural pride observable in the Firestone manager's face when he told us that 1800 of their men at the Firestone Works, Akron, hare joined the American Expeklitionary Forces in France. Mr. H. S. Firestone's excellent article, "Three important Lessons my Business has Taught Mn," is now published in pamphlet form.