THE BEAN TRACK-PULL TRACTOR.
21st February 1918
Page 18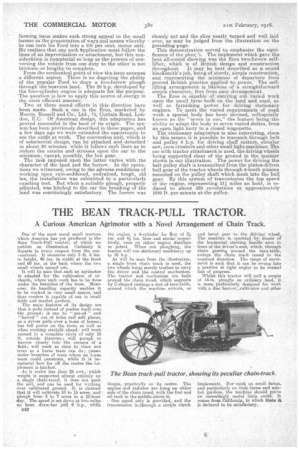 Page 18, 21st February 1918 —
THE BEAN TRACK-PULL TRACTOR.
Close
A Curious American Agrimotor with a Novel Arrangement of Chain Track.
One of the most novel small tractors which America has yet produced is the Bean Track-Pull• tractor, of which we publish an illustration. Certainly it departs in every respect from the conventional. It measures only 3 ft, 8 ins. in height, 40 ins, in width at the front and 60 ins, at the back where the two small wheels spread out.
It will be seen that such an agrimotor is adapted for the cultivation of orchards, where 'such work has to be done under the branches of the trees. Moreover, its handling capacity enables it to be worked in very small spaces, and thus renders it capable of use in small fields and -market gardens.
The main features. of its design are that it pulls instead of pushes itself over the ground ; it can he " gee-ed " and hawed" out of holes end soft places, as a drivespulls over a team of horses; has full power on the term as well as when working straight ahead: will work around in a complete circle cf only 10 ft. outside diameter; • will piongh or harrow closely into the corners of a field; will work as close to vines and trees as a horse team can do; passes under branches of trees where no horse team could penetrate, While it is immaterial how far off the centre the implement is hitched.
As it scales less than 28 cwt,, which weight is supported almost entirely on a single chain-tread, it does not pack the soil, and can be used for working over cultivated wound. It is claimed that it will cultivate 10 to 15 acres, andplough from 4 to 7 acres in a 10-hour tlav. The speed is set down at two miles 9,n hour; draw-bar pull 6 h.p., while
C42
the engine, a 4-cylinder Le Roy of 3h ins. and 44 ins, bore and stroke respectively, runs on either engine distillate or petrel. When not ploughing, the tractor will rim stationary •inachinery up -to 10 h.p, As will be seen from the illustration, a single front chain track is used, the two wheels being merely trailers to carry the driver and the control mechanism. The tractor and mechanism are built around the chain tread, which supports by C-shaped castings a sort of:turn;table, around which the machine swivels, or
hinges, • practically on its centre. The engine and radiator are hung on either side of the chain tread, with the fuel and oil tank in the middle.aboVe it.
One speed only is provided, and the transmission is,through a simple Clutch
and bevel gear to the driving wheel. The machine, is operated hv means of the horizontal steering handle seen in front of the driver's seat, which, through chain gearing around the turn-table, swings the chain track round in the required direction. The range of movement is such that it can he swung into a position at right angles to its normal line of progress. Whilst this tractor will pull a couple of 14-in. ploughs on ordinary land, it is more particularly 'designed for work with a disc harrow, .cultivator and other implements. For work on small ,farms, and particularly on fruitfarms and market gardens, the machine should prove an exceedingly useful little outfit: It comes from -California, in which State it is declared to be satisfactory.