COAL-GAS CONVERSIONS
21st February 1918
Page 16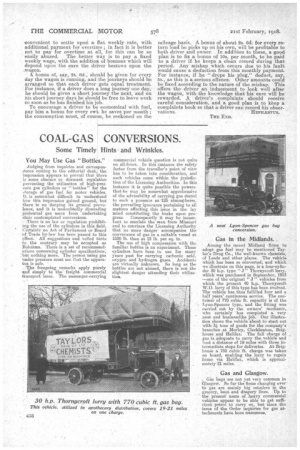 Page 16, 21st February 1918 —
COAL-GAS CONVERSIONS
Close
Some Timely Hints and Wrinkles.
You May Use Gas 'Bottles."
Judging from inquiries and correspondence coming to the editorial desk, the 'impression appears to prevail that there is some obscure or dormant regulation pre-Venting the utilization of high-pressure gas cylinders or " bottles" for the to rage of gas fuel for motor vehicles. It.. is 7soirie-What difficult to 'understand how this impression gained ground, but there -is no denying its general prevalence, and it is undoubtedly dissuading Protential gas users from undertaking their contemplated cenversions.
.There is no law or regulation prohibiting the use of the cylinders in this field. Certainly no Act of Parliament or Hoard of -Trade by-law has been passed to this effect. All suggestions and veiled hints to the contrary may be accepted as HoIoisms. There is a set of recommendations concerning cylinder specifications; hirt, nothing More. The person using gas tinder Pressure must see that the apparatus is safe.
The foregoing remarks apply purely ea simply to the freight commercial transport issue. The passenger-carrying commercial vehicle question is not quite on all,fours. In this instance the safety factor from the traveller's point. of view has to be taken into consideration, an.d such vehicles come within the jurisdiction of thc Licensing Authorities. In this instance it is quite possible the powersthat-be may be somewhat apprehensive of the advisability of carrying gas stored to such a pressure as -125 atmospheres, the prevailing ignorance pertaining to all matters affecting this issue in the lay mind constituting the brake upon pro gress. Consequently it may be incumbent to emulate the man from Missouri and to convince the Licensing Authority that no more danger accompanies the conveyance of gas in a suitable vessel at 1800 lb. than at 15 lb. per sq. in.
The use of high compression with the familiar bottles is no experiment. These cylinders have been in use for many years past for carrying carbonic acid, oxygen and hydrogen gases.. Accidents are' virtually unknewn. So long as the bottles are not abused, there is not the slightest danger attending their utilization.
Gas in the Midlands.
Among the recent Midland firms to adopt gas ftiel may be • mentioned Taylor's Drug Co., the well-known chemists, of Leeds and other places. The vehicle which has been so converted, and which we illustrate on this page, is a four-cylin
der 30 h.p. type Thornyeroft lorry, which was purchased in September, 1913 --one of the original "J" vehicles from which the present 40 h.p. Thornyeroft W.D. lorry of this type has been evolved. The vehicle has thus fulfilled four and a half Years' continuous service. The container of no cable ft. capacity is of the Lyon-Spencer type, and the fitting was carried out by tho owners' mechanic, who certainly has completed a very neat and businesslike job. Our illustration shows the vehicle about to start out with.4 tons of goods for the company's branches at Morley, Cleckheaton, Brighaute and Halifax. .Tho full charge of gas is adequate to carry the vehicle and load a distance of 19 mfles with three intermediate stops for deliveries. At-Brighouse a 750 cubic ft. charge was taken on board, enabling the lorry to regain home via Halifax, which is approxi
mately 21 miles. •
Gas and Glasgow.
, Gas bags are not yet very common in Glasgow. So far the firms changing over to gas are mainly big retailers in the grocery, boot and drapery lines. -Up to the present users of heavy commercial vehicles appear to ho able to "get sufficient, petrol to carry on, but .since the issue of the. Order inquiries for gas attachments have been numerous.