MEETING ITALY'S WAR DEMANDS.
21st February 1918
Page 13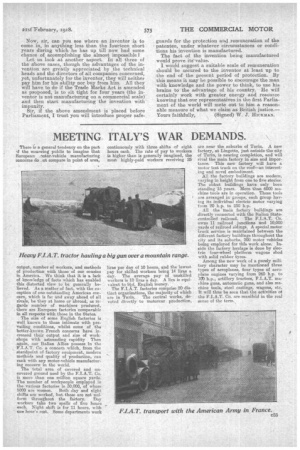 Page 13, 21st February 1918 —
MEETING ITALY'S WAR DEMANDS.
Close
There is a general tendency on the part if the incs.ering public to imagine that European ,lotor-vehicle manufacturing concerns do .2ot compare in point of area
output, number of workers, and methods of production with those of our cousins in America. We think that it is a. lack of knowledge of facts which has enabled this distorted view to be generally believed. As a matter of fact, with the exception of one outstanding American concern, which is far and away ahead of all rivals, be they at home or abroad, as regards number of machines produced, there are European factories comparable in all respects with.those in the &ate& The size of some English factories is well known to those intimate with prevailing conditions, whilst some of the better-known French concerns have increased their output and size of workshops with astounding rapidity Then agam, our Italian Allies possess in the -F.I.A.T. Co. a concern which, from the standpoint of factory equipment, modern methods and quality of production, can rank with any motor-vehicle manufacturing concern in the world.
The total area of covered and uncovered ground used by the F.I.A.T. Co. is more than one million square yards. The number of workpeople employed in the various factories is 30,000, of whom 5000 are women. Both clay and night shifts are worked, brit these are not uniform throughout the fahtory. Day workers take two spells of five hours each. Night shift is for 11 hours, with One hour's rest. Some departments work
continuously with three shifts of eight hours each. The rate of pay to workers is higher than is generally imagined, the most highly-paid workers receiving 25 liras per day of 10 hours, and the lowest pay for skilled workers being 14 liras a day. The average pay of unskilled workers is 10 liras a day. A lira is equivalent to gkl. English money.
The factories comprise 20 distinct organizations, the majority of which are in Turin. The central works, devoted directly to motorcar production,
are near the suburbs of Turin. A new factory, at Lingotto, just outside the city of Turin, is nearing completion, and will rival the main factory in size. and importance, This new factory will have a motor test track on the roof—an interesting and novel embodiment.
All the factory buildings are modern, varying in height from one to five stories. The oldest buildings have only been standing .15 years. More than 6000 machine tools are in operation. These tools • are arranged in groups, each group having its individual electric motor varying from 20 h.p. to 250 h.p.
All the main factory buildings are directly connected with the Italian State. controlled railroad. The F.I.A.T. Co. owns 11 railroad junctions and 10,000 yards of railroad sidings. A special motor truck service is maintained between the different factory buildings throughout the city and its suburbs, 200 motor vehicles being employed for this work alone. Inside the factory haulage is done by electric four-wheel platform wagons shod with solid rubber tyres.
Among the new work of a purely military character may be mentioned three types of aeroplanes, four types of aeroplane engines varying from 260 h.p. to 7110 h.p., artillery tractors, F.I.A.T. marline guns, automatic guns, and also ma
chine tools, steel castings, wagons, etc. ft will tints be seen that the activities of the F.I.A.T. Co. are manifold in the real sense of the term.