Oilmen seek deals
21st December 1985
Page 6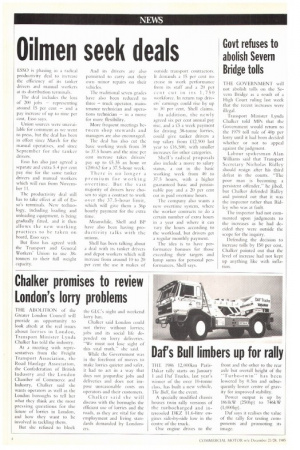 Page 6, 21st December 1985 —
Oilmen seek deals
Close
ESSO is phasing in a radical productivity deal to increase the efficiency of its tanker drivers and manual workers at its distribution terminals.
The deal includes the loss of 200 jobs — representing around 13 per cent — and a pay increase of up to nine per cent, Esso says.
Union sources were unavailable for COMMCM as we went to press, hut the deal has been in effect since March for the manual operatives, and since September for the tanker drivers.
Esso has also just agreed a separate and extra 5.4 per cent pay rise for the same tanker drivers and manual workers which will run from November 11.
The productivity deal still has to take effect at all of Esso's terminals. New technology, including loading and unloading equipment, is being gradually fitted, and it then allows the new working practices to be taken on board, Esso says.
But Esso has agreed with the Transport and General Workers' Union to use 38tonners to their full weight capacity. And its drivers are also permitted to carry out their own minor repairs on their vehicles.
The traditional seven grades have also been reduced to three — truck operator, maintenance technician and operations technician — in a move for more flexibility.
More frequent meetings between shop stewards and managers are also encouraged.
The deal has also cut the basic working week from 38 to 37.5 hours and the nine per Cent increase takes drivers' pay up to 15.35 an hour or 1:200.62 for a 37.5-hour week.
There is no longer a premium for working overtime. But the vast majority of drivers have chosen to sign a contract to work over the 37.5-hour limit, which will give them a 36p hourly payment for the extra time.
Meanwhile, Shell and BP have also been having productivity talks with the unions.
Shell has been talking about a deal with its tanker drivers and depot workers which will increase from around 10 to 20 per cent the use it makes of outside transport contractors. It demands a 15 per cent increase in work performance from its staff and a 20 per cent cut in its 1,7 5 0 workforce. In return top drivers earnings could rise by up to 30 per cent, Shell claims.
In addition, the newly agreed six per cent annual pay rise, and a !:5 a week payment for driving 38-tonne lorries, could give tanker drivers a top salary from 02,900 last year to 1216,500, with smaller increases Ibr other categories.
Shell's radical proposals also include a move to salary status, a cut in the basic working week from 40 to 37.5 hours, with a higher guaranteed basic and pensionable pay and a 20 per cent cut in paid overtime hours.
The company also wants a new overtime system, where the worker contracts to do a certain number of extra hours in a year and where it can vary the hours according to the workload, but drivers get a regular monthly payment.
The idea is to have performance bonuses for those exceeding their targets and lump sums for personal performances, Shell says.