EDITORIAL
21st December 1985
Page 4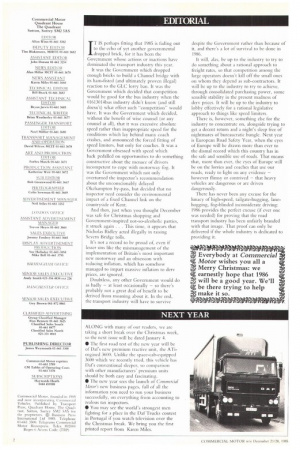 Page 4, 21st December 1985 —
EDITORIAL
Close
IT IS perhaps fitting that 1985 is fading out to the echo of yet another governmental dropped brick, for it has been the Government whose actions or inactions have dominated the transport industry this year.
It was the Government which dropped enough bricks to build a Channel bridge with its ham-fisted (and ultimately proven illegal) reaction to the GLC lorry ban. It was the Government which decided that competition would be good for the bus industry when the 01613014bus industry didn't know (and still doesn't) what effect such "competition" would have. It was the Government which decided, without the benefit of wise counsel (or any counsel at all), that it was excessive absolute speed rather than inappropriate speed for the conditions which lay behind many coach crashes, and announced the forced fitting of speed limiters, but only for coaches. It was a Government obsessed with speed which back pedalled on opportunities to do something constructive about the menace of drivers incompetent to cope with motorway. fog. It was the Government which not only overturned the inspector's recommendation about the unconscionably delayed Okehampton by-pass, but decided that no inspector need consider the environmental impact of a fixed Channel link on the countryside of Kent.
And then, just when you thought December was safe for Christmas shopping and Government-inspired not-so-alcoholic parties, it struck again . . . This time, it appears that Nicholas Ridley acted illegally in raising Severn Bridge tolls.
It's not a record to he proud of, even if lesser sins like the mismanagement of the implementation of Britain's most important new motorway and an obsession with reducing inflation, which has somehow managed to impart massive inflation to dery prices, are ignored.
Doubtless, any other Government would do as badly — at least occasionally — so there's probably not a great deal of benefit to be derived from moaning about it. In the end, the transport industry will have to survive despite the Government rather than because of it, and there's a lot of survival to he done in 1986.
It will, alas, be up to the industry to try to do something about a rational approach to freight rates, so that competition among the large operators doesn't kill off the small ones on whom they depend as sub-contractors. It will be up to the industry to try to achieve, through consolidated purchasing power, some sensible stability in the present madness of dery prices. It will be up to the industry to lobby effectively for a rational legislative approach to things like speed limiters.
There is, however, something else for the industry to concentrate on, alongside trying to get a decent return and a night's sleep free of nightmares of bureaucratic bungle. Next year is European Road Safety Year. when the eyes of Europe will be drawn more than ever to the dismal record which this country has in the safe and sensible use of roads. That means that, more than ever, the eyes of Europe will be on the lorries and coaches that use our roads, ready to light on any evidence — however flimsy or contrived — that heavy vehicles are dangerous or are driven dangerously.
There has never been any excuse for the lunacy of high-speed, tailgate-hugging, lanehogging, fog-blinded inconsiderate driving: 1986 provides the perfect excuse (if ever one was needed) for proving that the road transport industry has been unfairly branded with that image. That proof can only be delivered if the whole industry is dedicated to providing it.