HOW BRITISH DOES BRITISH HAVE TO BE?
21st December 1985
Page 21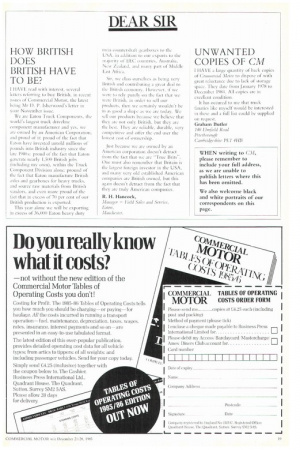 Page 21, 21st December 1985 —
HOW BRITISH DOES BRITISH HAVE TO BE?
Close
I HAVE reihi with interest, several hirers referring to buy British, in recent issues ofCommercial Motor, the latest being Mr I). P. Isherwood's letter your November issue.
We are Eaton 't-ruck Components, the world's largest truck driveline component manufacturer and yes, we are owned by an American Corporation, and proud of it: proud of the fact that Eat(in have invested untold in pounds into into British industry since the late 1940s: proud otthe fact that Eaton generate nearly 1,500 British jobs (including my own), within the Truck (:omponent Division alone: proond of the fact chat Eaton manufacture British axles and gearboxes for heavy trucks, and source raw materials from British vendors. and even more proud of the fact that in excess of 70 per cent of our British production is exported.
This year alone we will be exporting in excess of 36,1100 Eaton heavy duty twin comiteashati i2;carboxes to the LISA, in addition to our exports to the majority of EEC countries, Australia, ;illd many part of Middle
East Africa.
Sir. we class ourselves is being very British and contributing a great deal to the British economy. I lowcver, if we were to rely purely on dle rd et tlLit we were British, in order to sell our products, then we certainly wouldn't be in as good ;I Shari: as we are today. We sell our products because we believe that they are not only British, but they are the best. They are reliable, durable, very competitive and offer the end user the lowest cost 01 ownership.
just because we are owned by an American corporation doesn't detract (rout the fact that we are -True Brits-. One must also remember that Britain is the largest foreign investor in the LISA, and many very old established American companies are British owned, but this again doesn't detract from the fact that they are truly American companies.
R. H. Hancock, .1/4uhisyr Heid Satcv and Srrvicr, Lifon,
Manchester.