WHY YOU NEED A CPC
21st December 1985
Page 20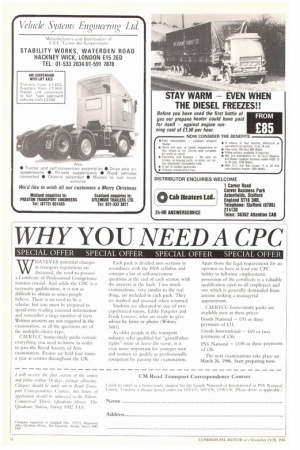 Page 20, 21st December 1985 —
WHY YOU NEED A CPC
Close
SPECIAL OFFER SPECIAL OFFER SPECIAL OFFER SPECIAL OFFER
WHA I EV ER potential changes in transport regulations are discussed, the need to possess a Certificate of Professional Competence remains crucial. And while the CPC is a necessary qualification, it is not as difficult to obtain as sonic people believe. There is no need to be a scholar, but you must be prepared to spend time reading essential information and remember a large number of facts. Written answers are not required in the examination, as all the questions are of the multiple-choice type.
CM/RICC home-study packs contain everything you need to know in order to pass the Royal Society of Arts examination. Exams are held four times a year at centres throughout the UK.
Lad' paek is do. Idecl Imo sections in
accordance with the RSA syllabus and contains a list of self-assessment questions at the end of each section with the answers at the back. Two mock examinations, very similar to the real thing, are included in each pack. They are marked and assessed when returned.
Students are allocated to one of two experienced tutors, Eddie Pargeter and Frank Lewsey, who are ready to give advice by letter or phone (Witney 3481).
As older people in the transport industry who qualified for "grandfather rights" retire or leave the scene, it is even more important for younger men and women to qualify as professionally competent by passing the examination.
Apart Croat the legal requirement for all operator to have at least one CPC holder in full-time employment, possession of the certificate is a valuable qualification open to all employees and one which is generally demanded from anyone seeking a managerial appointment.
C114/14TCC home-study packs are available now at these prices: Goods National — £.93 or three payments of £31; Goods International — £69 (Sr two payments of .06; PSV National — £108 or three payments of £36.
The next examinations take place on March 26, 1986. Start preparing now