Drivers responsible for coaches at night
21st December 1985
Page 19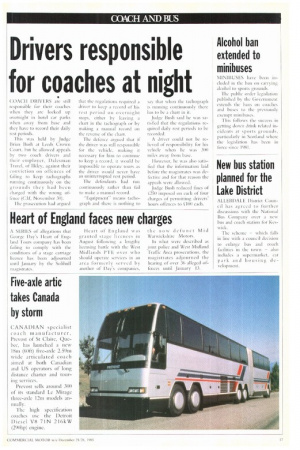 Page 19, 21st December 1985 —
Drivers responsible for coaches at night
Close
Lt )ACI1 DRIVERS are still responsible for their coaches when they are locked up overnight in hotel car parks when away from base and they have to record their daily rest periods.
This was held by Judge Brian Rush at Leeds Crown Court, but he allowed appeals by two coach drivers and their employer, Dalesman Travel, of Ilkley, against their conviction on offences of failing to keep tachographs running continuously on the grounds they had been charged with the wrong offence (CM, November 30).
I he prosecution had argued
that the regulations required driver to keep a record of his rest period on overnight stops, either by leaving a chart in the tachograph or by making a manual record on the reverse of the chart.
The defence argued that it the driver was still responsible for the vehicle, making it necessary for him to continue to keep a record, it would he impossible to operate tours as the driver would never 11.1Ve an ummemipted rest period.
The defendants had run continuously rather than fail to make :1 manual record.
-Equipmentmeans tachograph and there is nothing to
ihat when the tachograph is running continuously there has to be a chart in it.
Judge Bush said he was satisfied that the regulations required daily rest periods to be reccirded.
A driver could nor be reheved of respolisibdity for his vehicle when he was 3011 miles away from base.
I lowever, he was also satisfied that the infiirmation laid before the magistrates was defective and for that reason the appeals were allowed.
Judge Bush reduced fines of 1:2511 imposed on each of tnur charges of permitting drivers' hours offences to 1:100 each.